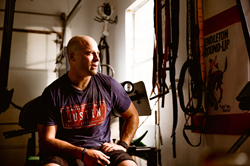 FORT WORTH, Texas (PRWEB)
January 18, 2023
January 17, 2023 was a special day for Dusty Tuckness as he completed his 400th

performance at the Fort Worth Stock Show & Rodeo. Award-Winning Bullfighter Dusty Tuckness has

been fighting bulls at the Fort Worth Stock Show & Rodeo since 2009.
Dusty Tuckness is a 14-time Wrangler National Finals Rodeo Bullfighter and a 10-time PRCA Bullfighter of

the Year. Tuckness ended the 2021 rodeo season with two fractured bones in his left leg during Round 9

of the Wrangler National Finals Rodeo. After two surgeries, Tuckness spent the first half of 2022

recovering from this injury and had to sit out during the Fort Worth Stock Show & Rodeo. With an

incomparable level of dedication, preparation, and faith, this award-winning bullfighter was able to finish

the 2022 rodeo season strong and return to this legendary rodeo just in time for this milestone

performance.
"It was a special day because I stepped foot in this arena for my 400th performance at the Fort Worth

Stock Show & Rodeo," says Tuckness. "It's pretty neat to look back and reflect on my time at this rodeo,

when it was at the Will Rogers Coliseum and now at the new Dickies Arena. I'm looking forward to the

next few weeks here in Fort Worth. Come out and see us!"
Learn more about Team Justin's Dusty Tuckness here.
About Justin Boots

Justin Boot Company has been handcrafting western footwear in the U.S. since 1879 when founder H.J.

Justin mastered the craft of boot-making using only the finest leathers and quality materials for superior

craftsmanship. The Standard of the West since 1879, Justin Boots remains committed to providing

dependable footwear at a value, along with a prominent focus on handcrafting boots in the U.S. with

global parts. For more information, visit justinboots.com.

Facebook: @JustinBoots | Twitter: @JustinBoots | Instagram: @JustinBoots_

Share article on social media or email: