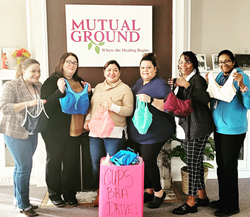 "When you have a well-fitted bra, you carry yourself differently. My goal is to help these ladies feel confident in their search for employment, and new opportunities to help them rise beyond their current circumstances."

AURORA, Ill. (PRWEB)
November 23, 2022
For six years, Cynthia Gamboa has been uplifting women in need in a significant way.
Gamboa, founder and executive director of Commitment to Uplift with Purpose and Service (CUPS), recently held the nonprofit's sixth annual bra drive at the Aurora Regional Fire Museum and collected over 2,500 new and gently used bras. With volunteers, they sorted the undergarments and Gamboa delivered them to five organizations that help women in difficult circumstances such as domestic abuse, homelessness, and sex trafficking. The organizations were the Wheaton-based DuPage PADS, Elgin PADS, and three Aurora-based nonprofits: Hesed House, Mutual Ground, and Not Forgotten Ministries. Each organization received close to 200 new bras which were given to their clients.
The rest were donated to Free The Girls, a Chesterton, Indiana-based nonprofit offering sustainable economic opportunities and related services to survivors of sex trafficking. This nonprofit, Gamboa said, ships the bras to sex trafficking survivors so that they can resale the bras and create sustainable businesses.
Hesed House Director of Community Engagement Noemi Velazquez was moved by the support that this year's drive garnered.
"Her mission is beautiful, and we are honored to benefit from this special event. Cynthia and the rest of her team take care of our ladies with so much love and respect," Velazquez said. "Hesed House is grateful for the CUPS Bra drive because it has brought hope and dignity to the ladies staying in our shelter for several years! "
Gamboa started CUPS in 2017 to honor her late mother, Carolina Gamboa, who succumbed to Stage 4 breast cancer at 54. Cynthia Gamboa saw CUPS as a way to uplift women who might be struggling to see themselves beyond their circumstances and to provide a purpose for the vendors and volunteers that help her collect donated bras all year round. Gamboa then distributes the bras to local shelters in Aurora and surrounding communities. Her mission, she says, is "to preserve the dignity and self-esteem of women and girls who are victims of homelessness, domestic violence, and sex trafficking and those who are refugees."
For women who are escaping homelessness, domestic violence, and sex trafficking, these bras are essential items that make them feel confident with their bodies. Some, Gamboa explained, return to the mentioned nonprofits to get more bras.
"They don't have the monetary means to purchase bras that are $20," she said. "Some of them require specialty bras that are close to $100."
For those wishing to donate, Gamboa needs larger sizes. She recalled how some women wore washcloths and even torn bras to protect their breasts.
"When you have a well-fitted bra, you carry yourself differently," she said. "When you are comfortable with your body, you can move and do things differently. My goal is to help these ladies feel confident in their search for employment, and new opportunities to help them rise beyond their current circumstances."
For more information, visit https://www.cupsbradrive.com/.
About CUPS:

Commitment to Uplift with Purpose and Service (CUPS) was founded in April 2017 by Cynthia Gamboa after a profound life lesson that her mother, Carolina Gamboa, taught before she lost her battle against breast cancer in 2015. By collecting bras, Cynthia desires not only to honor her mom's legacy but also to give back to her community and expand across the world.
Recognizing that this particular garment is seldom donated to shelters moved Cynthia into action. CUPS exists to gift women living in shelters new or gently used bras so they feel uplifted and filled with dignity.
To bring her mission and purpose to life, Cynthia created a volunteer group of board members. These are women who are local leaders, small business owners, and professionals from various industries such as marketing, accounting, and graphic design. Together, she leads and empowers them to organize annual bra drives in Aurora, Illinois. In its sixth, Cynthia continues to guide and oversee the coordination of the event, the stewardship of the relationships and partnerships with vendors, sponsors, and the logistics needs at the collection sites. For more information, visit https://www.cupsbradrive.com/.
Share article on social media or email: