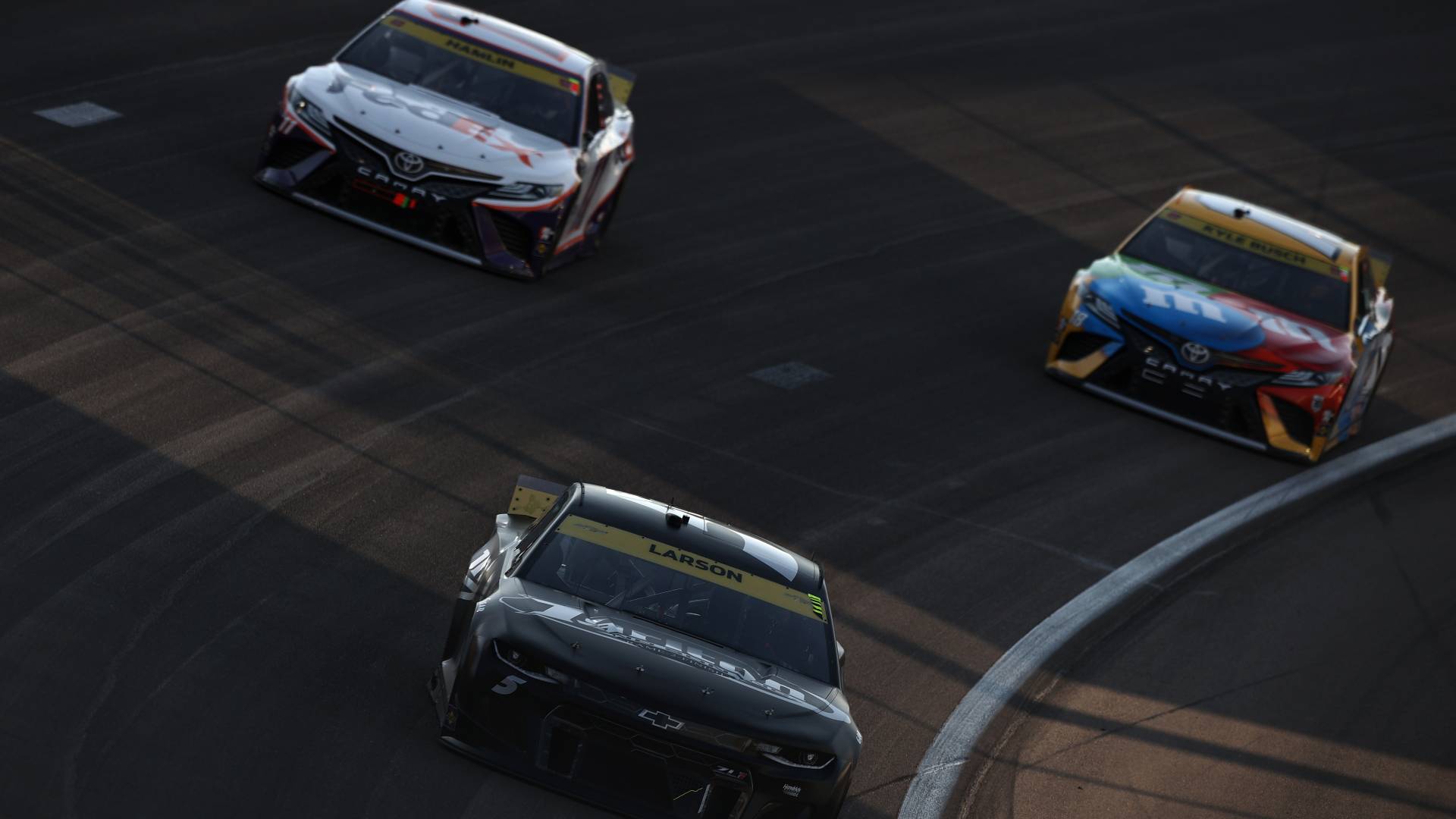 Bubba Wallace made history at Talladega Superspeedway.
Wallace earned his first NASCAR Cup Series win at his home track after the YellaWood 500 playoff race was cut short because of rain Monday afternoon. He becomes the second Black driver to win a race at NASCAR's top level, after Wendell Scott in 1963. 
The 27-year-old Alabama native cheered with his crew once the race was called.
He had ralled in the second stage and took his first lead of the race on Lap 113 after passing Rickey Stenhouse Jr. and Christopher Bell. Shortly after he took the lead, rain forced the cars to pull onto pit road under red-flag conditions. As the rain persisted, several drivers came up to Wallace and pre-congratulated him on his imminent victory. 
Wallace's historic victory, combined with a series of wrecks involving playoff drivers, creates chaos in the playoff standings. Only Denny Hamlin — one of the owners of Wallace's 23XI Racing team — is locked into the next round, the Round of 8. The other 11 playoff drivers will be racing for spots on Charlotte's road couse in the final race in the Round of 12. 
Sporting News tracked race updates and higlights from Monday's rain-delayed (and then rain-soaked) YellaWood 500 at Talladega. 
MORE: NASCAR at Talladega: Rain postpones YellaWood 500 to Monday
NASCAR at Talladega live updates, highlights from YellaWood 500
All times Eastern.
4:30: The race is called official due to rain and Bubba Wallace makes history. 
3:45: The cars are brought down to pit road under red flag conditions once again. If the race is ruled official with the current standings, Wallace will earn his first NASCAR Cup Series win. He will also be the first black driver to win at the top level since Wendell Scott in 1963. 
3:40: Bubba Wallace is leading as the race continues in caution. Rain is pouring over the race track with 117 laps complete. 
3:36: Logano creeps on Wallace in front. Buescher pushes Ryan Preece from the back, and forces him to spin out and crash into William Byron. Rain starts coming down again on the track. 
3:30: Wallace takes the lead followed by Kurt Busch on the inside line with seven laps remaining in the second stage. 
3:26: Bubba Wallace comes in behind Stenhouse Jr. in the second lane after making a huge gain from the outside. 
3:22: Rickey Stenhouse Jr. and Christopher Bell lead coming out of the caution on lap 104. A couple of cars push Bell while one car pushes Stenhouse Jr. from the outside. He clears past Bell and takes the lead from the middle lane.
3:20: Bowman is pushed by Rickey Stenhouse Jr. and turns into the wall, forcing a crash with Kyle Busch, Martin Truex Jr., Tyler Reddick, and Ross Chastain. 
3:15: Hamlin gets behind Bowman to push him and extend the lead. Kyle Larson is attempting to catch up as the leading drivers pass the halfway mark. 
3:10: Bowman gives Harvick the push on lap 90 to give him a lead. Bell takes the inside and is waiting for his chance to make a move. Bell tasks the lead on the inside, but he's almost head-to-head with Harvick.
3:07: Bell leads the line closest to the wall followed by Harvick, Hamlin and Alex Bowman. Custer pushed on the inside line on the second turn, but couldn't make the move to the front.
3:04: Justin Haley leads following the red flag, followed by Logano on the inside. Christopher Bell takes the lead on the first turn from the middle line. 
3:00: Drivers are led into pit road and resume with the green flag on lap 78. Red flag time was 18 minutes. 
2:50: Drivers are told to get back into their cars and to restart their engines. They are preparing with a few pace laps before getting back to completing the second stage. If more rain continues, the race can be cut short at 94 laps or after the second stage.
2:24: Rain starts coming down on lap 74. The cars are brought down to pit road to allow the jet driers to come onto the track. 
2:22: Coming into his pit box, Hamlin is forced to slam on the breaks to avoid a collision with Ryan Blaney. Rain starts coming down on lap 74, turns 1 and 2 are confirmed damp. 
2:15: Larson is told he is on damaged vehicle policy again, and he will need to meet minimum speed to continue. 
2:10: As soon as Kyle Larson meets minimum speed, he heads into the wall to blow out his front right tire. He will head back to pit road for more work. 
2:08: Logano leads from the inside to start the second stage. Keselowski, Blaney and Tyler Reddick trail from the outside in the middle line.
2:05: Chris Buescher wins the first stage under caution.
1:57: Larson and Chase Briscoe head pit road after the crash to change tires and fix some metal damages. Larson loses a lap, but makes it off of pit road. He is attempting to work up to minimum speed with damage to the front.
1:55: Justin Allgier spins into the wall and crashes into Kyle Larson's door. The damage could be major, but both cars will likely still make it to pit road to asses. 
1:53: Chase Elliott leads the pressure from outside line. Denny Hamlin drops to the rear of the pack as the pushing intensifies in front. 
1:50: Team Ford takes a strong lead with Keselowski, Buescher, Logano and Harvick in front single file. 
1:45: Keselowski and Buescher lead the pack to lap the last couple of cars with 13 laps remaining in the first stage.  
1:38: Brad Keselowski and Chris Buescher take the lead for Team Ford as they are forced into the middle. Joey Logano trails the duo as they are pushed to the outside.
1:34: Denny Hamlin climbs up to seventh on the inside line. Kevin Harvick stays at the front followed by Ryan Blaney at lap 36.
1:28: Harvick is first off pit road. Chase Elliott swerves to avoid a collision with Cody Ware.
1:26: Chase Elliott slid a full length ahead of his box on pit road. 
1:25: Custer is first on pit road followed by Kevin Harvick, Joey Logano, Ryan Blaney, Chase Elliott and Brad Keselowski. 
1:22: The inside line settles down with Custer at the lead, competition caution flag is waved at lap 26.
1:20: Cole Custer takes the lead from Harvick ahead of the competition caution. The line in the third lane is finally starting to drop to the rear.
1:15: Matt DiBenedetto briefly took the lead, but Kyle Larson gets in front after the first 16 laps of stage one. 
1:12: Kevin Harvick takes the lead in lap six as Joey Logano pushes him on the right. The cars are all tightly packed in three lanes.
1:10: It doesn't take long for Kyle Busch to take the lead ahead of Chase Elliott. Denny Hamlin drops to the back. 
1:05: The second Round of 12 race is underway. 
12:53: Drivers report to their cars and start their engines. 
12:30: Cars are being pushed onto the grid ahead of the 1:05 p.m. green flag.
NASCAR start time today
Time (ET): 1 p.m. 
TV channel: NBCSN
Live stream: NBCSports.com, NBC Sports App, fuboTV
The green flag for Monday's NASCAR Cup Series playoff race at Talladega is scheduled to drop at 1 p.m. ET after the race was postponed from Sunday due to rain.
How to watch NASCAR at Talladega
TV channel: NBCSN (TSN3 in Canada)
Live stream: NBCSports.com | NBC Sports App | fuboTV (7-day free trial)
Radio: MRN
NBCSN programming will begin at noon ET with the network's "Countdown to Green" prerace show, hosted by Marty Snider with analysts Brad Daugherty and Kyle Petty. Race coverage will begin at 1 p.m. ET on Monday.
Rick Allen will handle play-by-play duties for the race while Dale Earnhardt Jr., Jeff Burton and Steve Letarte will provide analysis. Snider, Kelli Stavast, Dave Burns and Parker Kligerman are the pit reporters this weekend. Rutledge Wood will be a "specialty reporter," in the words of NBC.
NASCAR Cup playoff standings
Kyle Larson leads the playoff standings as the second Round of 12 race begins. On the other end are the drivers below the cut line: William Byron, Kevin Harvick, Alex Bowman and Christopher Bell. Byron trails eighth-place driver Brad Keselowski by only four points.
A playoff driver who wins a race in the Round of 12 automatically advances to the next round.
| | | |
| --- | --- | --- |
| Pos. | Driver | Points |
| 1 | Kyle Larson | 3096 |
| 2 | Denny Hamlin | 3082 |
| 3 | Kyle Busch | 3074 |
| 4 | Martin Truex Jr. | 3070 |
| 5 | Ryan Blaney | 3063 |
| 6 | Chase Elliott | 3061 |
| 7 | Joey Logano | 3045 |
| 8 | Brad Keselowski | 3043 |
| 9 | William Byron | 3039 |
| 10 | Kevin Harvick | 3036 |
| 11 | Alex Bowman | 3030 |
| 12 | Christopher Bell | 3018 |
NASCAR starting lineup at Talladega Speedway
Here is the complete NASCAR starting lineup for Monday's playoff race at Talladega Superspeedway, the YellaWood 500.
| | | | |
| --- | --- | --- | --- |
| Start pos. | Driver | Car No. | Team |
| 1 | P-Denny Hamlin | 11 | Joe Gibbs Racing |
| 2 | P-Kyle Busch | 18 | Joe Gibbs Racing |
| 3 | P-Chase Elliott | 9 | Hendrick Motorsports |
| 4 | P-Ryan Blaney | 12 | Penske Ford |
| 5 | P-Kyle Larson | 5 | Hendrick Motorsports |
| 6 | P-Martin Truex Jr. | 19 | Joe Gibbs Racing |
| 7 | P-Brad Keselowski | 2 | Penske Ford |
| 8 | P-Joey Logano | 22 | Penske Ford |
| 9 | P-Kevin Harvick | 4 | Stewart-Haas Racing |
| 10 | P-William Byron | 24 | Hendrick Motorsports |
| 11 | P-Alex Bowman | 48 | Hendrick Motorsports |
| 12 | P-Christopher Bell | 20 | Joe Gibbs Racing |
| 13 | Tyler Reddick | 8 | Richard Childress Racing |
| 14 | Kurt Busch | 1 | Chip Ganassi Racing |
| 15 | Matt DiBenedetto | 21 | Wood Brothers Racing |
| 16 | Austin Dillon | 3 | Richard Childress Racing |
| 17 | Chase Briscoe | 14 | Stewart-Haas Racing |
| 18 | Daniel Suárez | 99 | Trackhouse Racing |
| 19 | Bubba Wallace | 23 | 23XI Racing |
| 20 | Aric Almirola | 10 | Stewart-Haas Racing |
| 21 | Rickey Stenhouse Jr. | 47 | JTG Daugherty Racing |
| 22 | Michael McDowell | 34 | Front Row Motorsports |
| 23 | Ross Chastain | 42 | Chip Ganassi Racing |
| 24 | Chris Buescher | 17 | Roush Fenway Racing |
| 25 | Ryan Newman | 6 | Roush Fenway Racing |
| 26 | Erik Jones | 43 | Richard Petty Motorsports |
| 27 | Ryan Preece | 37 | JTG Daugherty Racing |
| 28 | Cole Custer | 41 | Stewart-Haas Racing |
| 29 | Corey LaJoie | 7 | Spire Motorsports |
| 30 | Anthony Alfredo | 38 | Front Row Motorsports |
| 31 | Cody Ware | 51 | Petty Ware Racing |
| 32 | BJ McLeod | 78 | Live Fast Motorsports |
| 33 | Justin Allgaier | 77 | Spire Motorsports |
| 34 | Josh Bilicki | 52 | Rick Ware Racing |
| 35 | Quin Houff | 00 | StarCom Racing |
| 36 | Joey Gase | 53 | Rick Ware Racing |
| 37 | Garrett Smithley | 15 | Rick Ware Racing |
| 38 | Justin Haley | 16 | Kaulig Racing |
| 39 | David Starr | 66 | Motorsports Business Management |
| 40 | Landon Cassill | 96 | Gaunt Brothers Racing |