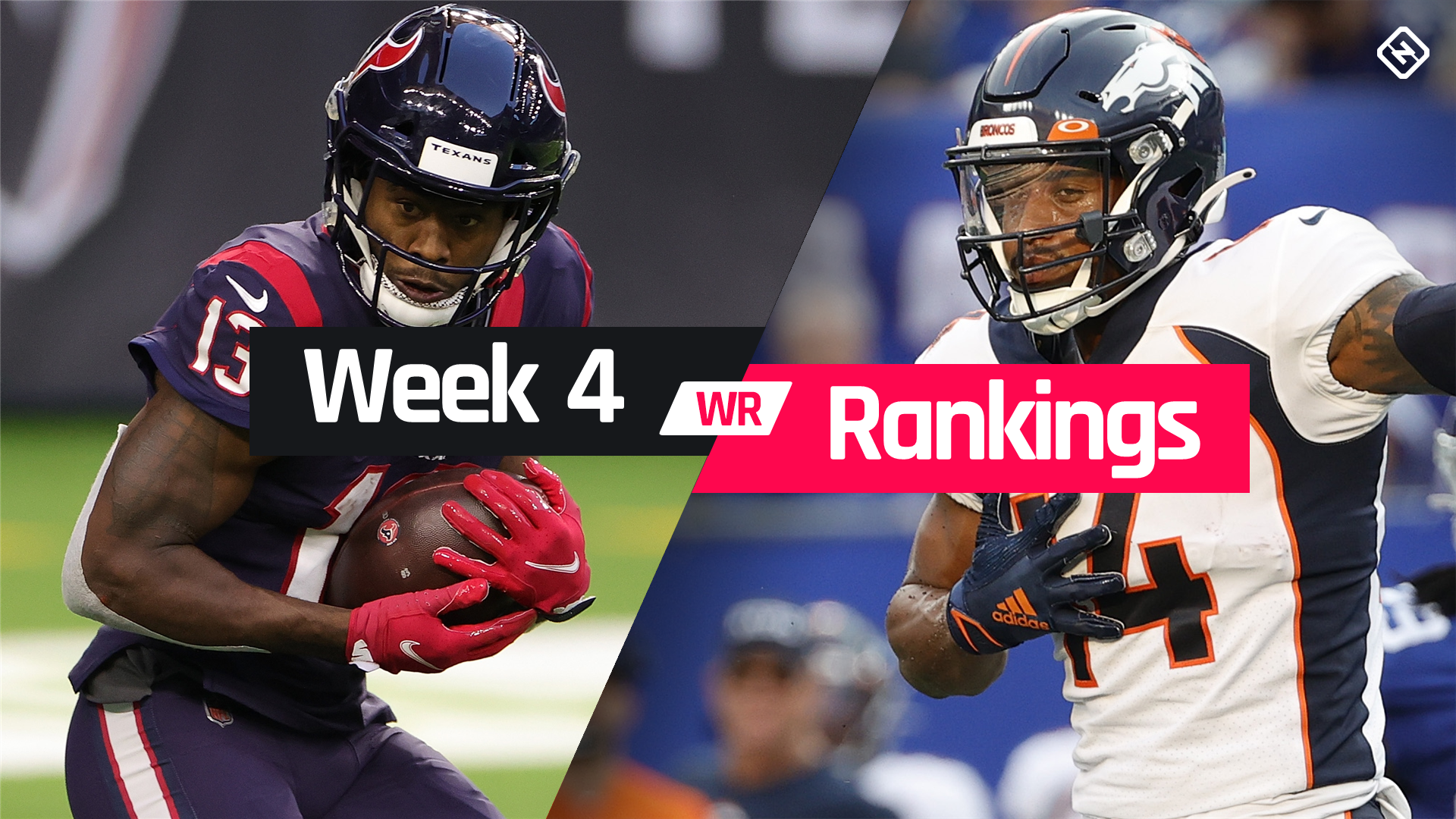 Rank
Player
1
Stefon Diggs, BUF vs. HOU
2
Cooper Kupp, LAR vs. ARI
3
Tyreek Hill, KC @ PHI
4
Davante Adams, GB vs. PIT
5
D.J. Moore, CAR @ DAL
6
Calvin Ridley, ATL vs. WAS
7
Terry McLaurin, WAS @ ATL
8
DK Metcalf, SEA @ SF
9
Adam Thielen, MIN vs. CLE
10
Keenan Allen, LAC vs. LV
11
Deebo Samuel, SF vs. SEA. Samuel had his quietest game of the year thus far, yet still drew 10 targets for five catches and 52 yards. Brandon Aiyuk looks like he's poised to return to fantasy relevancy, but Samuel stays as the No. 1 WR in SF in a matchup with a Seattle, who has been bad against the pass when facing formidable WRs.
12
Allen Robinson, CHI vs. DET. If Robinson doesn't produce here, it will be tough to keep him ranked any higher than a mid-level WR2. However, the matchup is strong, as Detroit's pass defense is awful. They 'held' the Ravens' pass-catchers in check according to the box score, but that was mostly due to three huge drops by Marquise Brown. Robinson actually drew 30 percent of Justin Fields' attempts last week, so brighter days are ahead if Chicago can get it going on that side of the ball.
13
Chris Godwin, TB @ NE. New England has been strong against WRs so far this year, but the top receiver they've faced is probably Corey Davis. If Antonio Brown is active this week, Tampa Bay has at least three or four options scarier than anyone they've seen. As always, it's tough to know who will be the top target on any given week in this offense, but Godwin has been the most consistent of the bunch. As usual, he and Mike Evans are must-starts, but we'll monitor Brown moving forward.
14
Tyler Lockett, SEA @ SF. Lockett has been a boom-or-bust play in the past, and he turned in his first bust performance of the year in what was supposed to be a great matchup with Minnesota. He only caught four passes (on four targets) for 51 yards and lacked a single big-play catch. It seems he's often dependent on those big plays, so he's trending toward being more viable in standard leagues. Still, his upside is No. 1 overall WR, so it's tough to rank him any lower. Maybe it was just one bad game, so we'll see moving forward. Monitor his knee injury, too.
15
Brandin Cooks, HOU @ BUF. Buffalo neutralized Terry McLaurin in Week 3 and has been tough against wide receivers overall. This is a scary matchup for Cooks, especially with Davis Mills running the offense in Houston. However, he dominates target, catches, and yards for Houston. He quite literally is the offense. Even if Mills misses him a bunch, there should be plenty of chances for Cooks to generate fantasy points. He's averaging 10.6 targets and 100-plus yards per game. Even against Carolina, he came up big. For now, we'll put him in the category of matchup- and QB-proof.
16
Ja'Marr Chase, CIN vs. JAX. We told you to temper expectations with Chase this preseason, but he's been dynamic in his first three NFL games. He's caught 11 passes for 220 yards and four touchdowns. Those stats obviously appeal more toward standard leagues, but he's a must-start either way. If Tee Higgins (shoulder) misses Thursday night's game, Chase has WR1 upside. Jacksonville's secondary is atrocious, and they just traded one of their starting corners to Carolina. His quarterback should be highly motivated for a game between the last two No. 1 overall picks in the draft.
17
DeAndre Hopkins, ARI @ LAR. Hopkins' rib injury is obviously affecting him. Against Jacksonville, he caught just three-of-six targets for 31 yards. This is obviously nowhere near the level of play we expect from D-Hop, and he'll likely get Jalen Ramsey shadow coverage against the Rams. Still, this could be a shootout, and Hopkins could easily make us look silly and have an explosive game. After all, two different receivers have had good games in each of the past two weeks against L.A. For now, we'll temper expectations given all of the concerns. At this point, Rondale Moore, Christian Kirk, or A.J. Green all draw starting consideration in your lineups. This offense can support between four and six players on offense on any given week.
18
Justin Jefferson, MIN vs. CLE. Jefferson finally picked it up in Week 3, and Minnesota's offense is clicking on all cylinders. Cleveland had no luck containing Brandin Cooks or Tyreek Hill, so it seems they don't have answers for a team's No. 1 WR. Jefferson does have more target competition than we thought, so his ceiling is a tad lower than most viewed it in the preseason.
19
Mike Williams, LAC vs. LV. You'll see this a lot in our articles this week, but we love this game for fantasy football. It should be a pass-heavy shootout, and Williams is playing as consistently as we've ever seen him (or thought was possible). He's drawn nine-plus targets, racked up at least 82 receiving yards, and scored a touchdown in all three of his games this season. We think he'll continue to ride the hot hand with Justin Herbert at the helm of the offense.
20
CeeDee Lamb, DAL vs. CAR. Carolina's defense has looked good, but that didn't stop Brandin Cooks and Corey Davis from having nice fantasy days against them. Jaycee Horn is out with a foot injury, so this could be the week the Panthers' defense gets exposed. During Weeks 1 and 2, Lamb totaled 25 targets for 15 receptions and 185 yards. Of course, he has to compete with Amari Cooper for targets, but we know there will be plenty to go around in this offense. It's tough to know which Cowboys' WR will perform better on a given week, but they're ranked close for a reason and can both put up WR1 numbers together,
21
Mike Evans, TB @ NE. See Chris Godwin.
22
Amari Cooper, DAL vs. CAR. See CeeDee Lamb.
23
Corey Davis, NYJ vs. TEN. It might be time to question whether the Titans' secondary is as bad as last year or they just ran into Rusell Wilson and Kyler Murray in Weeks 1 and 2. They're not susceptible to just any matchup as we saw in Week 3 vs. Indianapolis. Their pass rush, third-down defense, and many other defensive statistics have improved from last year, so we can't just expect Davis to be a top-10 WR this week. The Jets' offense is horrific, so even though Davis is the No. 1 WR there, his upside is limited. All that said, it still is a decent matchup, and Davis will be motivated against his former team.
24
Marquise Brown, BAL @ DEN. Brown is on the verge of a breakout season, he should've had at least two touchdowns last week along with another big play, but his hands failed him. Regardless, he's getting open and Lamar Jackson is putting the ball in the right spots. For now, he's easily the No. 1 option in the passing game. Denver allowed nice fantasy performances from Sterling Sherpard and Marvin Jones, so Brown could be next in line.
25
Courtland Sutton, DEN vs. BAL. Sutton has been up and down to start the season, but the Broncos haven't had to pass regularly going against weak competition. Denver has now played three teams with a combined 0-9 record. Week 4 should be different as Baltimore rolls into town. Sutton leads the team with 20 targets, and when the passing volume picks up, double-digit targets is easily attainable. However, we'll temper expectations a little bit, as he'll often be covered by one of the league's best corners, Marlon Humphrey.
26
DeVonta Smith, PHI vs. KC. We'll see how he performs against a suspect defense in Dallas, but we know Kansas City's defense is awful. Smith is the No. 1 WR in Philly, and the more he and Hurts jell together, the better the connection will be. The same goes for Jalen Reagor and to a lesser extent, Quez Watkins, who's a boom-or-bust standard-league play given the matchup.
27
Kenny Golladay, NYG @ NO.
28
Odell Beckham Jr., CLE @ MIN. OBJ showed some good signs in his season debut — his first action since he tore his ACL. He saw nine targets and caught five of them for 77 yards. He'll continue to get better as the season goes on, but we know this isn't a high-volume passing attack. Minnesota does present a nice matchup for him, though.
29
Diontae Johnson, PIT @ GB. Johnson (knee) will be questionable heading into the game with Green Bay, but we know he's going to get an absurd number of targets if he plays. In his absence, Najee Harris got 19 targets, and the Steelers passed 58 times. He should return as the top guy in the passing game as soon as he's back.
30
Robert Woods, LAR vs. ARI. Woods has started slow out of the gate, but he still is second on the Rams with 19 targets, so brighter days could be ahead. Is there a better time to start his success with Matthew Stafford than a potential shootout with the Cardinals? This has to be the week, right?
31
Antonio Brown, TB @ NE. We'll see if AB is active after he tested positive for COVID-19 last week, but if he does play, this figures to be a tough matchup. As always though, at least one of the Bucs' WRs will have a nice fantasy day, and perhaps Brown will be the third Bucs star to have a nice "revenge game."
32
Marvin Jones, JAX @ CIN. Who is the No. 1 WR in Jacksonville? Right now, Jones leads the team in targets with 28, followed by DJ Chark with 22, and Laviska Shenault with 21. Thus, they are all viable flex plays when presented with a good matchup. Cincinnati has faced putrid offenses in Weeks 2 and 3, so it's tough to evaluate their passing defense. Much like some of the other WR trios in the league, it's tough to tell who will be the top guy in a certain game, but the pecking order in rankings looks similar to the pecking order in targets this week.
33
Tim Patrick, DEN vs. BAL. Patrick looked like he'd be heavily touchdown-dependent through two weeks, but in Week 3, he caught all five targets for 98 yards — a respectable 14.8 PPR points performance. He'll face a much tougher matchup this week, so we'll lower the expectations a little bit. Still, being ranked as a WR3 is way higher than we saw him in the preseason. With Jerry Jeudy (ankle) still out, and he remains the No. 2 WR in this offense. KJ Hamler is expected to miss the remainder of the season with a torn ACL, so Patrick will have to pick up some of those targets, too.
34
Cole Beasley, BUF vs. HOU. Beasley is obviously more attractive in PPR, as he's back to commanding double-digit targets in the slot. Against Houston, he should get open with ease, but this game may be over before it even begins, meaning they'll take it easy in the passing game. Since his fantasy profile is built on volume, that's the concern here. If Houston somehow keeps its close, expect another monster PPR day.
35
Tyler Boyd, CIN vs. JAX. Boyd will move up if Tee Higgins (shoulder) can't go on Thursday night, but he's worth starting consideration either way. He has more PPR appeal if Higgins plays, but he's on the border of a "must-start" wide receiver if Higgins doesn't.
36
Emmanuel Sanders, BUF vs. HOU. Sanders is being littered with deep targets in a Josh Allen-led offense. What more could you ask for? Houston's defense is outmatched in every way here.
37
JuJu Smith-Schuster, PIT @ GB. Smith-Schuster (ribs) will be questionable for this game, but he's always a candidate to get a bunch of short, easy targets.
38
Jakobi Meyers, NE vs. TB. Meyers leads all Patriots with 29 targets (11 more than the next closest), so he's appealing in PPR leagues especially. Mac Jones will get better, so naturally, Meyers will, too. However, don't count on that this week, as the young Patriots' offense will take on the ferocious Buccaneers' defense. Yes, Matthew Stafford and Cooper Kupp had success against Tampa, but they're at a level well above Jones and Meyers at this point in their careers.
39
Christian Kirk, ARI @ LAR. See DeAndre Hopkins
40
DJ Chark, Jaguars, JAX @ CIN. See Marvin Jones.
41
Brandon Aiyuk, SF vs. SEA. See Deebo Samuel
42
Nick Webster-Ikhine, TEN @ NYJ
43
Curtis Samuel, WFT @ ATL
44
Rondale Moore, ARI @ LAR. See DeAndre Hopkins
45
Laviska Shenault Jr., JAX @ CIN. See Marvin Jones.
46
Henry Ruggs III, LV @ LAC
47
Robby Anderson, CAR @ DAL
48
Hunter Renfrow, LV @ LAC
49
Darnell Mooney, CHI vs. DET
50
Jaylen Waddle, MIA vs. IND
51
Michael Pittman Jr., IND @ MIA
52
Chester Rogers, TEN @ NYJ
53
Marquez Callaway, NO vs. NYG
54
Jalen Reagor, PHI vs. KC. See DeVonta Smith.
55
Sammy Watkins, BAL @ DEN
56
Quintez Cephus, DET @ CHI
57
Will Fuller V, MIA vs. IND
58
Kendrick Bourne, NE vs. TB
59
Kadarius Toney, NYG @ NO
60
Collin Johnson, NYG @ NO
61
Zach Pascal, IND @ MIA
62
Quez Watkins, PHI vs. KC See DeVonta Smith.
63
Bryan Edwards, LV @ LAC
64
Gabriel Davis, BUF vs. HOU
65
K.J. Osborn, MIN vs. CLE
66
Nelson Agholor, NE vs. TB
67
Anthony Miller, HOU @ BUF
68
DeVante Parker, MIA vs. IND
69
Mecole Hardman, KC @ PHI
70
DeSean Jackson, LAR vs. ARI
71
Jamison Crowder, NYJ vs. TEN
72
Khalif Raymond, DET @ CHI
73
A.J. Green, ARI @ LAR See DeAndre Hopkins
74
Van Jefferson, LAR vs. ARI
75
Terrace Marshall Jr., CAR @ DAL
76
Jalen Guyton, LAC vs. LAV
77
Braxton Berrios, NYJ vs. TEN
78
Deonte Harris, NO vs. NYG
79
Allen Lazard, GB vs. PIT
80
Olamide Zaccheaus, ATL vs. WAS
81
Randall Cobb, GB vs. PIT
82
Amari Rodgers, GB vs. PIT
83
Demarcus Robinson, KC @ PHI
84
Dyami Brown, WAS @ ATL
85
Marquise Goodwin, CHI vs. DET
86
Byron Pringle, KC @ PHI
87
Anthony Schwartz, CLE @ MIN