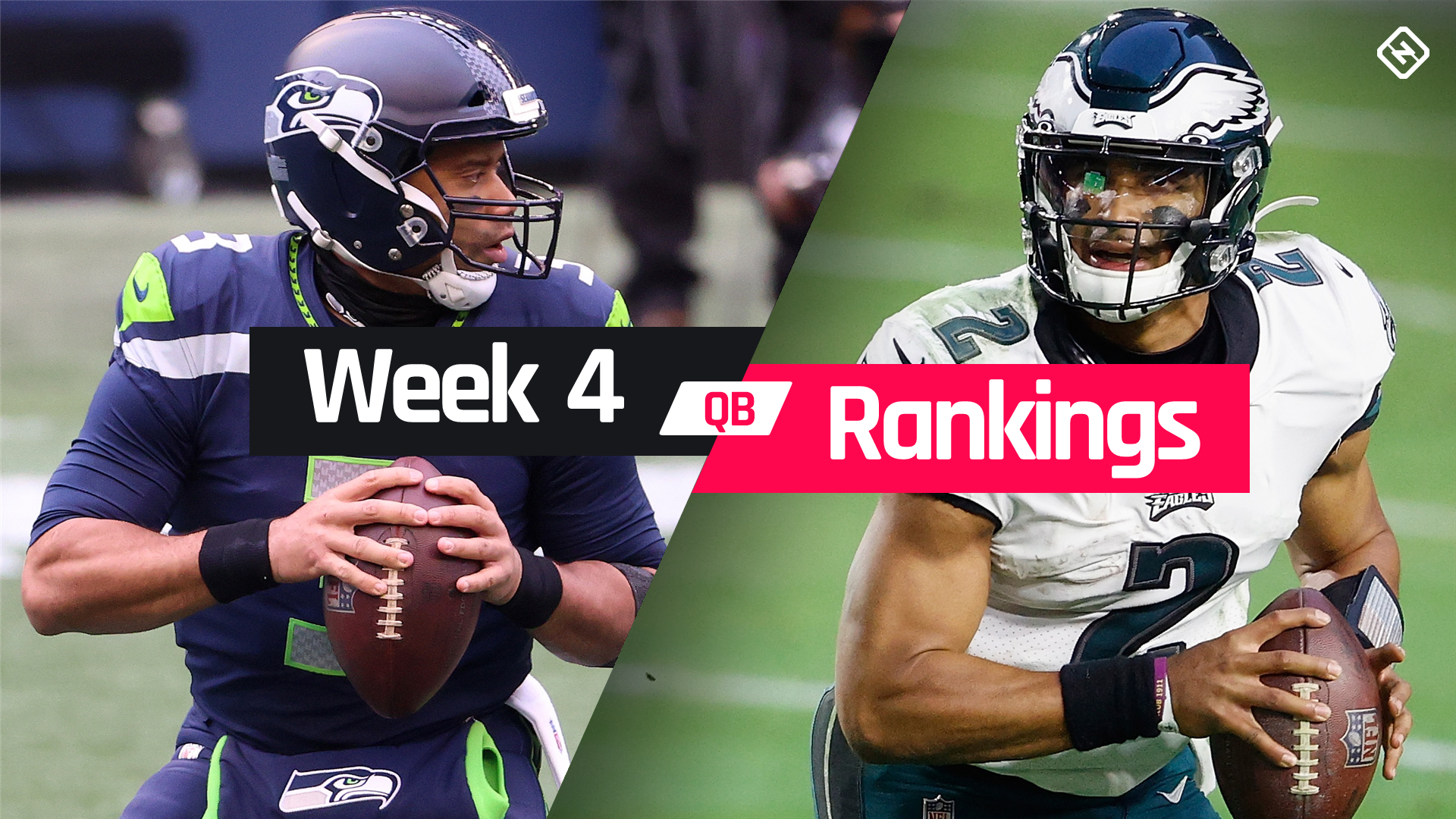 We're coming up on Week 4, and we continue to get new status to help us figure out who's good, who's bad, and who's somewhere in between. While there's still not a complete picture, we have to use all that we have available. Not that we needed any new reasons, but Josh Allen's huge Week 3 and favorable matchup against Houston has him sitting atop our Week 4 fantasy QB rankings. You'll see the usual dual-threat studs inside the top 10, but the rest of the list looks a little different than you'd expect. As always, use these rankings as a guide to decide who to start and who to sit at quarterback this week.
Sam Darnold (@ Dallas) has to eventually look like he did in New York, right? Maybe, but we're not scared to rank him at QB12 this week. We've been somewhat hesitant about ranking him that high, but what if he was just a product of Adam Gase with the Jets? What if he's the next Ryan Tannehill? Based on what we've seen this year, he has to start being respected in fantasy. After all, he's netting about 20 fantasy points per game thus far, and we know Dallas' defense isn't good. There is a chance the offense looks pedestrian without Christian McCaffrey (hamstring), but that's a risk worth taking this week.
WEEK 4 PPR RANKINGS:
Running back | Wide receiver | Tight end | D/ST | Kicker
Yes, we just wrote an entire paragraph about Darnold, but he's been one of the major surprises this year. Beyond him, Derek Carr (@ Chargers), Kirk Cousins (vs. Browns), Ryan Tannehill (@ Jets), and Joe Burrow (vs. Jaguars) are ranked inside the top 16. While Tannehill disappointed in Weeks 1 and 2, there's too much talent in Tennessee for him to continue to be average (assuming his top two WRs are healthy, which we'll have to monitor this week). We saw a glimpse of what we expected from Tannehill in Week 3 vs. Indianapolis with three passing touchdowns. Carr and Cousins have simply been too good to ignore, even if they both have neutral matchups.
WEEK 4 STANDARD RANKINGS:
Running back | Wide receiver | Tight end | D/ST | Kicker
Burrow battles Trevor Lawrence and the Jaguars on Thursday, which could turn out to be a high-scoring affair. It's a battle of the last two No. 1 overall picks, so this could turn into a flexing match between the two sides. That said, Lawrence (vs. Bengals) has a chance to produce a decent fantasy outing, too, but it's tough to trust anyone in the Jaguars offense. Taylor Heinicke (@ Atlanta) is a wildcard. We've seen mixed results from him, but we love the matchup with Atlanta. Baker Mayfield (@ Vikings) looks like a good play on paper, but we've seen time and time again the Browns are going to always prioritize running the football.
WEEK 4 DFS LINEUPS: DraftKings | FanDuel | Yahoo
Rookies Zach Wilson (vs. Tennessee) and Justin Fields (vs. Detroit) have nice matchups on paper and present boom-or-bust profiles this week. After horrible outings in Week 3, though, they both are more likely to be on the bust side of things but can be used in two-QB/superflex leagues.
MORE WEEK 4 DFS: Best stacks | Best values | Lineup Builder
Tom Brady (@ Patriots) and Aaron Rodgers (vs. Steelers) are two interesting players this week. Brady could go nuclear, or Bill Belichick could get the best of him in their grudge match. You have to start him, but be aware of the possible point regression. After all, this should be a low-scoring game and we saw him struggle against the Rams. Rodgers looked better in Week 2, but it was against the Lions. In Week 3 (@ 49ers), he started hot and wound up with solid numbers. The Steelers should still be viewed as a tough matchup, but they're not super intimidating. Realistically, you're still starting these guys in most situations, but temper expectations just a little bit. 
WEEK 4 FANTASY: Start 'em, sit 'em | Sleepers | Busts
After this week, we'll have a full month of data to evaluate. That feels like a solid benchmark for drawing strong conclusions and projections moving forward. For now, we're still guessing a bit, but notable trends are certainly emerging.
Note: We'll be updating these QB rankings as needed throughout the week, so check back for the latest changes and analysis.
Fantasy QB Rankings Week 4: Who to start at quarterback
Rankings are based on standard, four-point passing TD scoring formats.
| | |
| --- | --- |
| Rank | Player |
| 1 | Josh Allen, BUF vs. HOU |
| 2 | Patrick Mahomes, KC @ PHI |
| 3 | Kyler Murray, ARI @ LAR |
| 4 | Jalen Hurts, PHI vs. KC |
| 5 | Lamar Jackson, BAL @ DEN |
| 6 | Matthew Stafford, LAR vs. ARI |
| 7 | Russell Wilson, SEA @ SF |
| 8 | Tom Brady, TB @ NE. Brady looked mortal in Week 3 against the Rams, but he's due for one of those games every once in a while. Still, he passed for over 400 yards and scored a passing and rushing touchdown, so he was just still had a nice fantasy day. We wonder if he'll be motivated to take on the Patriots. Who knows. It is worth noting New England has been a top-five defense against quarterbacks, but Winston, Tagovailoa, and Zach Wilson are a little different than Brady. |
| 9 | Dak Prescott, DAL vs. CAR. Carolina's defense has looked like one of the best in the league, but Prescott is spoiled with weapons. There's always a chance his touchdowns go to running backs instead like in Week 2, but we can't be afraid of that. |
| 10 | Aaron Rodgers, GB vs. PIT. Pittsburgh's defense is better than the scoring stats might show. The offense has turned over the ball a lot, so naturally, the defense has given up points. Rodgers has rebounded from his Week 1 disaster and is still a top-ten play this week, but it'd be tough to see him crack the top five. |
| 11 | Derek Carr, LV @ LAC. In three games this season, Carr is averaging 401 passing yards per game and has thrown six touchdowns. The Chargers' defense has been a tough unit against the pass and held Patrick Mahomes below 25 points. They held Dak Prescott without a passing touchdown in Week 2. So who wins out in this strength vs strength matchup? Carr has faced three teams with excellent defensive backs through the first three weeks, so we have to think he'll still put up stellar numbers in what could turn out to be a shootout in primetime. |
| 12 | Sam Darnold, CAR @ DAL. Darnold has been excellent in 'real life' and fantasy this season. Yes, it's shocking, but it's reality. Christian McCaffrey is going to miss a few weeks, so Darnold will either pick up the passing volume or the offense will fall flat on its face. Both are possibilities, but we're going to trust Darnold in this matchup with Dallas, who is weak on the backend of their defense. |
| 13 | Justin Herbert, LAC vs. LV. The Raiders' pass defense has looked decent, but they've played Lamar Jackson, Ben Roethlisberger, and Jacoby Brissett. This week will be their toughest test yet, and Herbert is playing his best football after taking down the Chiefs in Kansas City. Keenan Allen, Mike Williams, and Austin Ekeler are all locked in, so hopefully, this will be another stellar performance. |
| 14 | Joe Burrow, CIN vs. JAX. Burrow and Ja'Marr Chase are right on the same page, and it's a beautiful thing to see. Tyler Boyd is also heating up, and we'll see if Tee Higgins is active for the Thursday night game. The Jags have actually been a middle-of-the-pack team against the pass. This is simply because teams have blown them out and gotten conservative. If this game is close, it could be Burrow's best game of his career. Jacksonville just traded away their 2020 first-round pick C.J. Henderson, so a new starter at cornerback will have just three days to prepare before the game. |
| 15 | Kirk Cousins, MIN vs. CLE. Kirk has thrown for 918 yards and eight touchdowns to zero interceptions through three weeks. We sound like a broken record here, but he's once again having a quiet stellar fantasy campaign. With all the weapons Minnesota has, he has a face floor and high ceiling. Cleveland allowed Patrick Mahomes to go off, but we won't fault him for that. Before Tyrod Taylor got hurt, he was well on his way to a 20-plus point fantasy performance against them before he got injured. Surely Cousins can match that and likely surpass it. |
| 16 | Ryan Tannehill, TEN @ NYJ. Even with A.J. Brown (hamstring) sidelined for most of the game vs. Indianapolis, Tannehill had a bounce-back performance. He threw three touchdowns to guys that helped almost no one in fantasy outside of Tannehill owners (Jeremy McNichols, Chester Rodgers, Nick Westbrook-Ikhine). He also rushed for a career-high 56 yards, so his rushing floor is still strong. That said, even if A.J. Brown is out, this offense should still have success against a putrid Jets' football team. |
| 17 | Teddy Bridgewater, DEN vs. BAL. Baltimore has delivered mixed results against the pass, so it's tough to tell how good they are in that area. They've been torched by Derek Carr and Patrick Mahomes, but those are two of the very best quarterbacks this season. This shakes up to be Bridgewater's toughest matchup yet, so can he continue to be an aggressive down-field thrower? We shall see, but we rank him a bit lower than in previous weeks. |
| 18 | Daniel Jones, NYG vs. NO. Jones didn't blow up in Atlanta as we'd hoped, but he still scored 16.54 fantasy points without any touchdowns. He once again was a factor on the ground, rushing for 39 yards (his season low). If 16 points is his floor, he's still an attractive option facing a Saints defense who was carved up by Sam Darnold in Week 2. They've been a back-and-forth defense, so we're not sure exactly how Jones will perform, especially with multiple key WR injuries |
| 19 | Baker Mayfield, CLE @ MIN. Mayfield had his best game of the season in Week 3, but the Browns simply prioritize their rushing attack ahead of anything else. Even if this game is high scoring, Mayfield may not have a nuclear week. He does have the upside if the Browns decide to let him loose and attempt a lot of passes to keep up with Kirk Cousins, but we just haven't seen it yet. The Vikings' defense held Russell Wilson to just under 300 yards and only one passing touchdown. |
| 20 | Jimmy Garoppolo, SF vs. SEA. Jimmy G is never a flashy play at QB, but San Francisco has weapons. Deebo Samuel has been a stud up to this point, plus George Kittle and Brandon Aiyuk are starting to get involved in the offense. Seattle's secondary is awful, to put it kindly, so he's playable in two-QB/superflex leagues this week, though he's always liable to lose a short TD to Trey Lance. |
| 21 | Matt Ryan, ATL vs. WAS. Ryan used to be a top fantasy quarterback based on volume alone. However, the passing attack in Atlanta isn't as strong as we've expected it to be, and Washington has to turn it around on defense at some point, right? |
| 22 | Jameis Winston, NO vs. NYG. Even in wins, Winston isn't passing for a ton of yards. He has a pair of games with multiple touchdown passes but failed to eclipse 150 yards in both of those games. The Giants' defense hasn't looked all the bad, but Teddy Bridgewater and Taylor Heinicke both eclipsed 20 fantasy points against them. That said, Winston could turn in a nice day if the passing volume picks up, but the Saints seem content with running the ball and playing defense. The Giants' offense might struggle to keep this game competition. |
| 23 | Taylor Heinicke, WAS @ ATL. Heinicke has a good matchup this week, but we still aren't putting our full trust I'm him just yet. The Falcons were somewhat competent against Daniel Jones in Week 3, who was riding a hot streak in fantasy. Of course, Heinicke could turn in a nice day, but we feel more confident in the guys ranked ahead of him. |
| 24 | Trevor Lawrence, JAX @ CIN. Could Lawrence turn in his best performance of the season this week? It's possible, but the Bengals' defense hasn't been quite as bad as we thought after being shredded by Kirk Cousins in Week 1. Andy Dalton and Ben Roethlisberger were completely neutralized by this group. Those guys are struggling this season, but so is Lawrence. This offense in Jacksonville could start clicking at any moment, but we're okay with being a week behind on that. |
| 25 | Jared Goff, DET @ CHI |
| 26 | Zach Wilson, NYJ vs. TEN |
| 27 | Justin Fields, CHI vs. DET |
| 28 | Ben Roethlisberger, PIT @ GB |
| 29 | Carson Wentz, IND @ MIA |
| 30 | Mac Jones, NE vs. TB |
| 31 | Davis Mills, HOU @ BUF |
| 32 | Jacoby Brissett, MIA vs. IND |