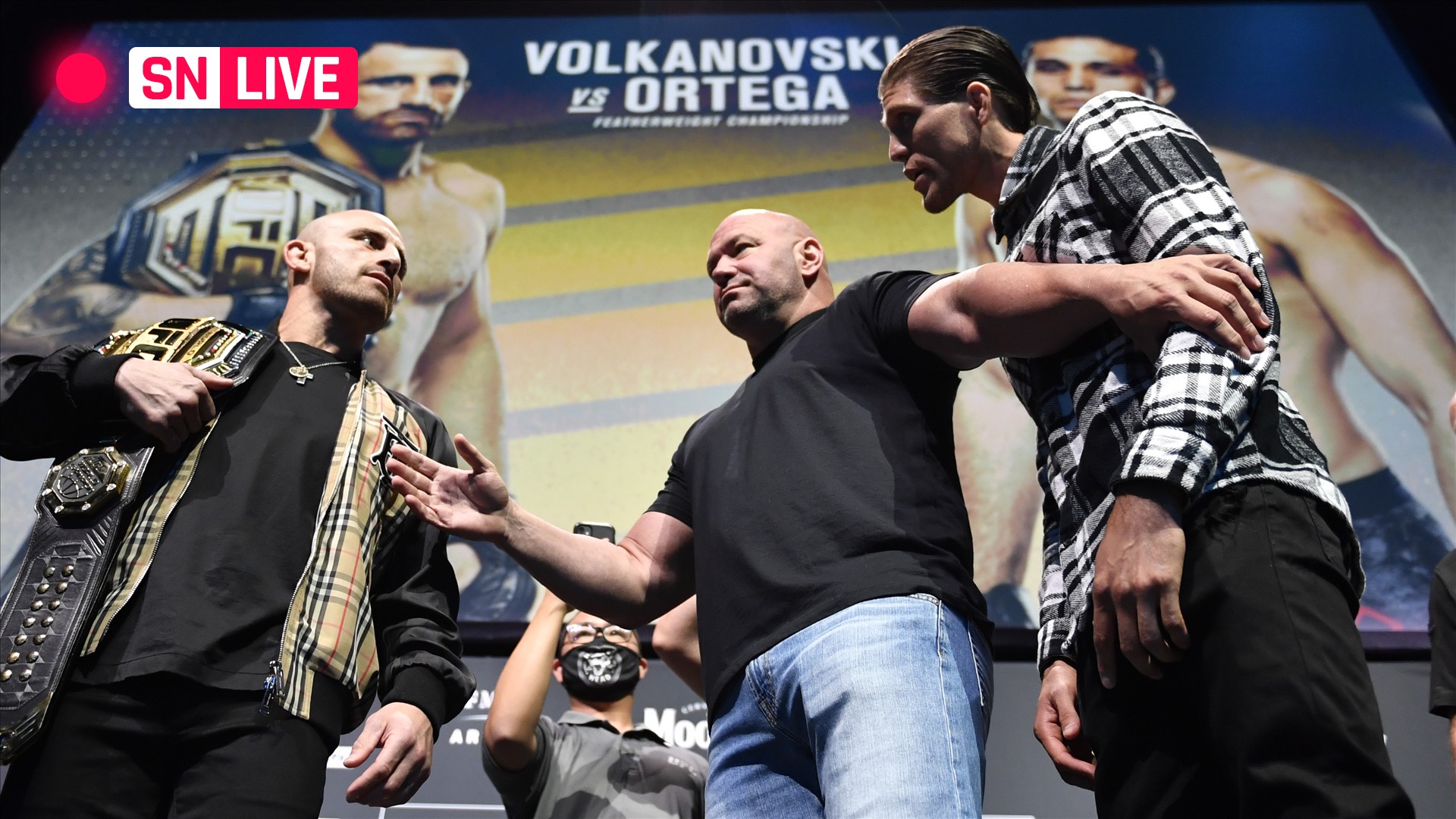 UFC 266 packs tons of star power heading into Saturday's main card at the T-Mobile Arena in Las Vegas.
Alexander Volkanovsk puts his UFC Featherweight championship on the line against Brian Ortega. There's no love lost between the two who coached opposite of each other on The Ultimate Fighter and were supposed to clash in the octagon at UFC 260 back in March until Volkanovski tested positive for COVID-19.
Volkanovski hasn't fought since defending his title against Max Holloway in July 2020, winning in a controversial split decision. Volkanovski brings a perfect 9-0 record in the UFC into Saturday's fight with Ortega.
MORE: Sign up to watch the UFC 266 PPV, exclusively on ESPN+ 
Ortega made a successful return to the Octagon last October with a dominant victory over Chan Sung Jung after taking nearly two years off following his loss to Holloway.
Saturday's main card also features the return of Nick Diaz. The 38-year-old hasn't stepped inside the octagon in over six years when he lost to Anderson Silva in the main event of UFC 183. Even though he's only fought three times in the past decade and hasn't won any of those fights, Diaz's return to the UFC at the age of 38 has got plenty of fans excited due to his cult hero-like status. 
UFC 266 live updates, highlights from Volkanovski vs. Ortega
Valentina Shevchenko vs. Lauren Murphy
Round 2 (12:03 a.m.): Shevchenko is unable to get a takedown but lands a combination. Murphy has done nothing of consequence yet. She's just kind of there. Counter right hand lights Murphy up. Body kick by Shevchenko and a takedown. If you're Murphy maybe you just close your eyes and hope it doesn't hurt. Murphy hanging on for dear life and Shevchenko tries to get her leg out from half guard. One fighter is trying to kill and the other is trying to survive. 10-9 Shevchenko (20-18 Shevchenko)
Round 1 (11:57 p.m.): Valentina lands an overhand right as Murphy rushes in. Body kick by Shevchenko. Murphy looks overwhelmed and scared to get hit. Murphy catches a leg kick but eats a right hand for her trouble. Shevchenko's speed is too much. Shevchenko chops her with a leg kick. Lands a combination. It's already all bad. Spinning backfist by Shevchenko lands. Murphy eats a counter right hand and is taken down. Easy first round for Shevchenko. 10-9
Robbie Lawler makes Nick Diaz say "No Mas" with third round stoppage
Round 3 (11:34 p.m.): Diaz opens up and goes right to Lawler's body. Left hand drops Diaz and Lawler tells him to get up. Diaz says "naw" and quits. Fight is over. 
Round 2 (11:28 p.m.): Diaz with a head kick and a combination to start the round. Lawler bulls forward and lands a combination and a short knee. Diaz with three uppercuts. Diaz just continues to pick off Lawler whenever he closes the distance. This is a strange fight. But it's fun. Lawler can't find an opening and Diaz won't stop punching. Diaz with a hard body shot but Lawler keeps walking him down. He has to land something though to make a difference. Lawler lands a combination. Diaz has slowed down some more. Lawler is landing with more frequency toward the end of the round and Diaz can't find the mark. Lawler hurts him with a body shot and lands five punches in a row to close the round. 10-9 Lawler (19-19)
Round 1 (11:22 p.m.): Robbie Lawler is swarming Diaz from the opening bell. Diaz looks slow and Robbie is crisp. Diaz is talking to Lawler and lands a body kick. Body punch. They exchange on the inside and Diaz lands a long right hand. Hands are being thrown. Diaz with a combination. Lawler with a head kick and Diaz responds with a combination. Lawler presses forward and Diaz just unloads a combination. Everything looks slow from Diaz but it's working. Lawler launches bombs and Diaz responds. Lawler with a combination and this is a fight. 10-9…Diaz?  
Curtis Blaydes uses takedowns to upend Jairzinho Rozenstruik
11:02 p.m.: It wasn't fun but Blaydes and his wrestling (predictably) got him the victory. Strange that all three judges scored it 30-27 when it looked like Jairzinho Rozenstruik earned at least one round. Nevertheless, Blaydes is back in the win column and will look to get a top heavyweight the next time out. 
10:54 p.m.: The second round finds Blaydes a little more cautious and a left hand from Rozenstruik nearly took him out of the game. Somehow, he also survived a flying knee and secured a takedown. But Rozenstruik did enough to squeeze out the round and let Blaydes know not to try any funny business. 
10:47 p.m.: As expected, Blaydes took Rozenstruik down. He didn't do much with it but it was enough to control the initial frame. Rozenstruik simply cannot wait for Blaydes and will have to throw caution to the wind at some point. 
Jéssica Andrade pulverizes Cynthia Calvillo for first round stoppage
10:26 p.m.: Jessica Andrade was just too strong for Cynthia Calvillo and simply stalked her prey, blasted her with power shots and wore her down. Calvillo didn't have the power to land a shot to get Andrade off of her and when the round was about to end, Andrade cranked up the pressure, trapped Calvillo and became the first person to stop her with a barrage of strikes right before the round ended. Brutal. 
9:51 p.m.: After an utterly ridiculous first round, Merab Dvalishvili completes the comeback by smashing Moraes into smithereens in the second round. He opened the right with a right hand and took Moraes down. For the next four minutes he smashed him with every limb he could legally use until referee Keith Peterson stop the fight with 35 seconds left. An absolutely surreal comeback. 
9:45 p.m.: One of the most insane first rounds of the year. Moraes clobbered Dvalishvili and had him dead to rights with a vicious striking assault. Somehow, Dvalishvili survived, collected himself, took Moraes down and closed the round pummeling Moraes. Absolutely insane. 
9:34 p.m.: To close out the prelims before the pay per view begins, Marlon Moraes will look to snap a two-fight losing streak against Merab Dvalishvili. Dvalishvili is riding a six-fight winning streak but Moraes is, by far, his toughest challenge. 
9:30 p.m.: Dan Hooker was the fan-favorite tonight and left the fans satisfied with a unanimous decision victory. A bounce back for him following a heartbreaking knockout loss to Michael Chandler. The win was dominant and Hooker is still a major player in the lightweight division. 
9:02 p.m.: We're here cageside for UFC 266 just as Dan Hooker and Nasrat Haqparast are making their walks to the cage under unique circumstances. Both had problems getting into the United States due to COVID security measures and not only ended up getting to Las Vegas, but made weight. No matter what happens tonight, they are both winners in my book.
Volkanovski vs. Ortega start time
Date: Saturday, Sept. 25
Start time: 6 p.m. ET | 3 p.m. PT
Main card (PPV): 10 p.m. ET | 7 p.m. PT
Main event: 12:15 a.m. ET | 9:15 p.m. PT (approximate)
UFC 266: Alexander Volkanovski vs. Brian Ortega takes place on September 25 with the early prelims kicking the event off at 6 p.m. ET, before the pay-per-view main card begins at 10 p.m. ET. Volkanovski and Ortega should enter the Octagon around 12:15 a.m. ET, depending on the length of the undercard bouts.
How to watch UFC 266: Volkanovski vs. Ortega
TV channels/live stream: ESPN, ESPN Deportes and ESPN+
The main card for UFC 266 is available in the U.S. on the ESPN+ subscription streaming service for a pay-per-view cost. That portion of the event begins at 10 p.m. ET.
Earlier fights are viewable live on ESPN, the WatchESPN app and, for the early prelims, UFC Fight Pass.
In Canada, the main-card pay-per-view is available on Bell, Rogers, Shaw, SaskTel, Videotron, Telus, Eastlink and UFC PPV on UFC Fight Pass.
UFC 266 fight card
Main Card
Alexander Volkanovski vs. Brian Ortega for Volkanovski's UFC Featherweight championship
Valentina Shevchenko vs. Lauren Murphy for Shevchenko's UFC Women's Flyweight championship
Robbie Lawler def. Nick Diaz via 3rd round TKO (punch) (:44)
Curtis Blaydes def. Jairzinho Rozenstruik via unanimous decision (30-27, 30-27 & 30-27)
Jéssica Andrade def. Cynthia Calvillo via 1st round TKO (punches) (4:54)
Preliminary card 
Merab Dvalishvili def. Marlon Moraes via 2nd round TKO (punches) (4:25)
Dan Hooker def. Nasrat Haqparast via unanimous decision (30-27, 30-27 & 30-26)
Chris Daukaus def. Shamil Abdurakhimov via 2nd round TKO (punches and elbows) (1:23)
Taila Santos def. Roxanne Modafferi via unanimous decision (30-27, 30-27 & 30-27) 
Fight Pass Prelims
Jalin Turner def. Uros Medić via 1st round submission (rear naked choke) (4:01) 
Nick Maximov def. Cody Brundage via unanimous decision (29-28, 29-28 & 29-28)  
Matthew Semelsberger def. Martin Sano Jr. via 1st round KO (punch) (:15) 
Jonathan Pearce def. Omar Morales via 2nd round submission (rear naked choke) (3:31)