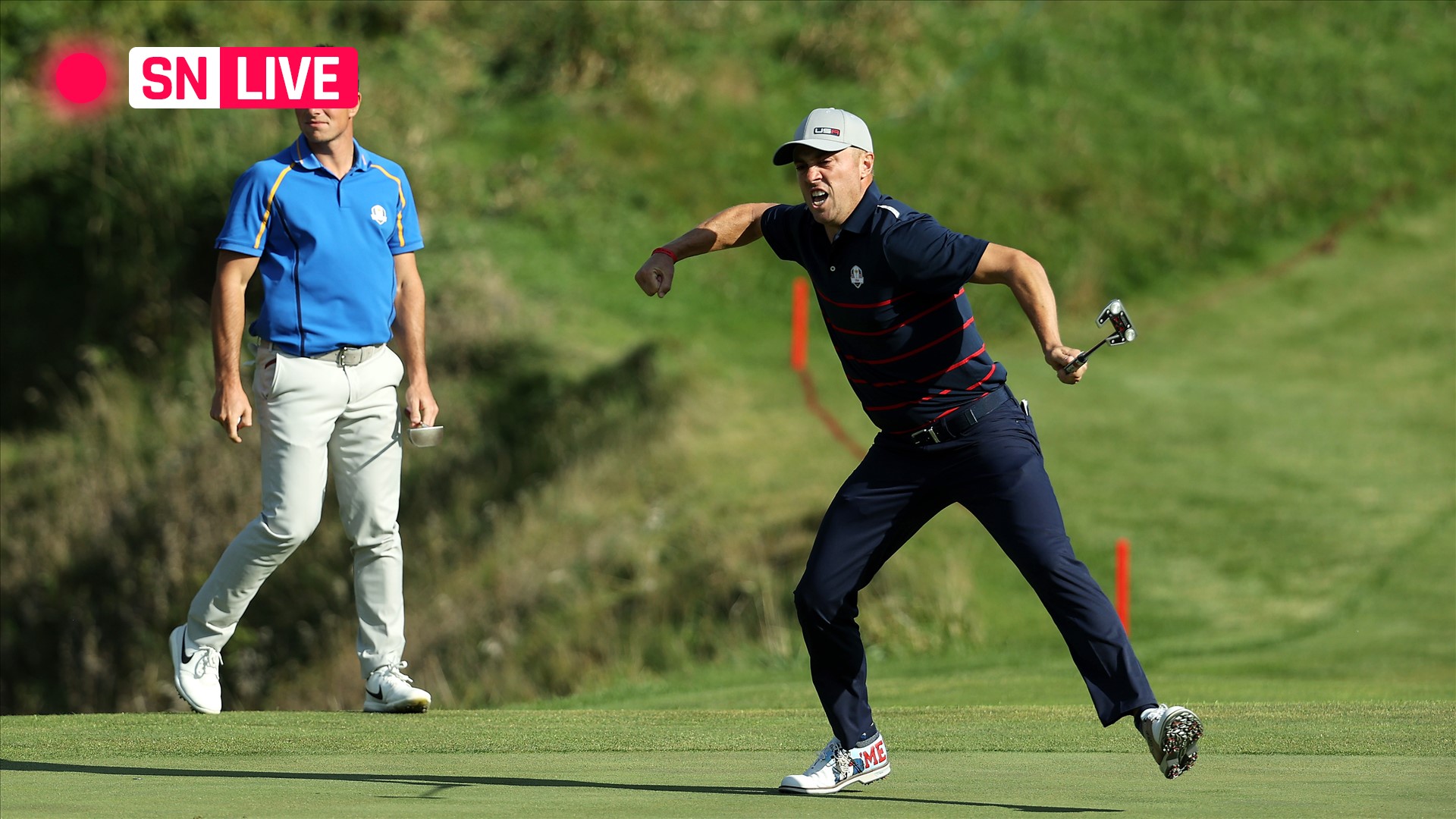 For the first time since 1975, Team USA heads into Day 2 of the Ryder Cup with a 6-2 lead over Europe. Saturday's play will begin around 8 a.m. ET with four foursome matches, followed by four fourball matches in the afternoon.
Day 1 produced a dominant performance by Team USA, which lost just one match and tied two other. The six rookies on the team are undefeated (Scottie Scheffler and Patrick Cantlay had ties in their fourball matches). Bryson DeChambeau ended his fourball match in a tie, but that was the first time in his Ryder Cup career he didn't lose.
Jon Rahm appears to be the European player to beat. He won his morning match with Sergio Garcia, the player with the most Ryder Cup wins in history, and tied his afternoon match with Tyrrell Hatton. Rory McIlroy lost both his matches by wide margins (5 and 3, 4 and 3). It was the first time he lost both his matches in one day.
Sporting News is tracking live scoring updates and highlights of the 2021 Ryder Cup featured groups. Follow along below for results and highlights from Saturday's foursome and fourball matches at Whistling Straits in Wisconsin.
MORE: Watch the Ryder Cup live with fuboTV (7-day free trial)
Ryder Cup scores
Foursome results
| United States | Europe | Results |
| --- | --- | --- |
| Brooks Koepka / Daniel Berger | Jon Rahm / Sergio Garcia | Europe wins 3&1 |
| Dustin Johnson / Collin Morikawa | Paul Casey / Tyrrell Hatton | USA wins 2&1 |
| Jordan Spieth / Justin Thomas | Viktor Hovland / Bernd Wiesberger | USA wins 2UP |
| Patrick Cantlay / Xander Schauffele | Lee Westwood / Matt Fitzpatrick | USA wins 2&1 |
Fourball results
| United States | Europe | Results |
| --- | --- | --- |
| Tony Finau / Harris English | Shane Lowry / Tyrrell Hatton | — |
| Brooks Koepka / Jordan Spieth | Jon Rahm / Sergio Garcia | — |
| Scottie Scheffler / Bryson DeChambeau | Tommy Fleetwood / Viktor Hovland | — |
| Dustin Johnson / Collin Morikawa | Ian Poulter / Rory McIlroy | — |
Ryder Cup live updates, highlights from Day 2
Live updates will begin around 1 p.m. ET. 
2:55 p.m. — Rahm birdies Hole 4 to go 2UP. This is the largest lead as of now.
2:51 p.m. — Hovland ends the only remaining tie of the afternoon after he birdies Hole 3 to go 1UP. Team Europe leads three matches.
2:50 p.m. — Johnson birdies while Team Europe doesn't, so Team USA is now 1UP. This is the only match they lead right now.
2:42 p.m. — Johnson's drive rolls onto the green on Hole 2, ending up closer than Lowry's from earlier.
2:37 p.m. — As English struggles with strong winds on Hole 4, he misses a birdie and par chance to win the hole after Team Europe bogeys. Team Europe remains 1UP after both teams bogey.
2:36 p.m. — Rahm putts for par after Garcia and Spieth both miss. Team Europe goes 1UP after three.
2:29 p.m. — Hatton has a shot on the side of the green on Hole 4. His attempt fails as the ball rolls back down to the sand trap. 
2:27 p.m. — Poulter shouts "C'mon!" as he makes his first big putt of the day. Johnson matches it with a birdie of his own. The final matchup stays tied after Hole 1.
2:19 p.m. — Spieth puts Team USA back to a tie after he makes eagle on Hole 2.
2:18 p.m. — After DeChambeau's par putt on Hole 1, he lays his putter on the ground to show that his ball was close enough to concede the putt. DeChambeau is the third golfer to do this today, after Thomas does it in the morning and Lowry does it in the afternoon.
2:14 p.m. — The last matchup of the day tees off between Rory McIlroy and Ian Poulter, both Ryder Cup veterans who have yet to capture a point this year, and Dustin Johnson and Collin Morikawa, who remain undefeated in this year's event.
2:13 p.m. — Lowry makes a long birdie putt on Hole 3 to put his team 1UP.
1:58 p.m. — Matchup three of the afternoon tees off. Bryson DeChambeau and Scottie Scheffler are still looking for their first Ryder Cup wins (DeChambeau lost all four in 2018). Viktor Hovland and Rahm are the only two on Team Europe who will play all five matches.
1:55 p.m. — Rahm's shot is conceded for birdie, and Spieth misses his chance to tie the hole. Europe leads 1UP after one.
1:42 p.m. — The most anticipated matchup of the afternoon begins as Sergio Garcia and Jon Rahm, the only undefeated European team, tee off, followed by the new American duo of Brooks Koepka and Jordan Spieth. All four golfers played this morning, and Koepka lost to Garcia and Rahm in their foursome matchup.
1:38 p.m. — English birdies the first hole of the day, making the American crowd excited. Lowry answers with his own birdie, so the first match remains tied.
1:26 p.m. — Day 2 begins with the winning American team from yesterday (Tony Finau/Harris English) against the new European duo (Shane Lowry/Tyrrell Hatton). Lowry's monster drive rolls to the edge of the green.
Highlights from the morning foursome matches:
Team USA showed another dominant morning performance on Saturday, winning three of the four matches. They currently lead Team Europe 9-3 heading into the afternoon matches. This is the largest winning margin after three rounds since Europe in 1987. 
Team Europe's single victory came from the undefeated team of Jon Rahm and Sergio Garcia who took a point over Brooks Koepka and Daniel Berger. 
Jordan Spieth and Justin Thomas came back from a down 3 deficit after six holes to winning their match 2UP. Collin Morikawa and Dustin Johnson remain undefeated as teammates this year. 
MORE: Updated standings for the 2021 Ryder Cup
How to watch the 2021 Ryder Cup
Dates: Sept. 24-26
TV channels: NBC, Golf Channel
Live stream: Peacock,  fuboTV
Golf Channel and NBC will split live coverage of the 2021 Ryder Cup. Golf Channel aired the first rounds of the tournament exclusively on Friday. NBC is taking over most of the weekend coverage on Saturday and Sunday.
| | | |
| --- | --- | --- |
| Date | Time (ET) | TV Channel |
| Friday, Sept. 24 | 8 a.m.-7 p.m. | Golf Channel, Peacock, fuboTV |
| Saturday, Sept. 25 | 8 a.m.-9 a.m. | Golf Channel, Peacock, fuboTV |
|   | 9 a.m.-7 p.m. | NBC, Peacock, fuboTV |
| Sunday, Sept. 26 | Noon-6 p.m. | NBC, Peacock, fuboTV |
Ryder Cup tee times for Saturday
Here are the complete Ryder Cup tee times and pairings for Saturday:
Note: Pairings will be announced after each round.
Foursomes
| | |
| --- | --- |
| Tee Time (ET) | Group |
| 8:05 a.m. | Brooks Koepka and Daniel Berger (US) vs. Jon Rahm and Sergio Garcia (EU) |
| 8:21 a.m. | Dustin Johnson and Collin Morikawa (US) vs. Paul Casey and Tyrrell Hatton (EU) |
| 8:37 a.m. | Jordan Spieth and Justin Thomas (US) vs. Viktor Hovland and Bernd Wiesberger (EU) |
| 8:53 a.m. | Patrick Cantlay and Xander Schauffele (US) vs. Lee Westwood and Matt Fitzpatrick (EU) |
Fourball
| | |
| --- | --- |
| Tee Time (ET) | Group |
| 1:26 p.m. | Tony Finau and Harris English (US) vs. Shane Lowry and Tyrell Hatton (EU) |
| 1:42 p.m. | Brooks Koepka and Jordan Spieth (US) vs. Jon Rahm and Sergio Garcia (EU) |
| 1:58 p.m. | Scottie Scheffler and Bryson DeChambeau (US) vs. Tommy Fleetwood and Viktor Hovland (EU) |
| 2:14 p.m. | Dustin Johnson and Collin Morikawa (US) vs. Ian Poulter and Rory McIlroy (EU) |