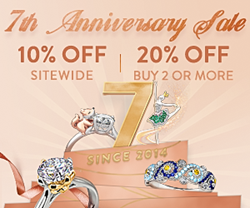 We believe that our unwavering dedication to offering our customers beautiful and high-quality personalized jewelry that induces an emotional connection at reasonable prices has been key to our success over the past seven years

SAN JOSE, Calif. (PRWEB)
August 11, 2021
Jeulia was founded with the mission to redefine jewelry by providing customers with premium meaningful bespoke jewelry that customers can enjoy for many more years to come. Since then, the dedicated team of Jeulia's designers at works together to craft affordable, one-of-a-kind pieces that reflect each wearer's personal style. The brand's vast material selection and impeccable artisanship combine to create a stunning collection of jewelry pieces that exude both elegance and modernity.
This August, the company will be serving its customers for the seventh consecutive year. Jeulia believes that their brand is created by more than just its jewelry — it's framed by the hundreds of customers who shop with them every day. Therefore they are celebrating this significant achievement with a special 7th Anniversary Sale that offers customers access to unbeatable savings and special deals. Starting today, customers will enjoy site-wide discounts of 10%, special promotional off on Jeulia's most popular collections, free shipping over $99, a unique mystery box, 20% off on buying 2 products, and more during the shopping event. One of the best special offers is an exclusive PU Jewelry box valued at $49 is available for only $9.99.
"We are very excited to celebrate our seventh anniversary as one of the leading jewelry brands in the world. From humble beginnings in 2014, we have continuously strived to revolutionize the jewelry industry," said a spokesperson for Jeulia. "We believe that our unwavering dedication to offering our customers beautiful and high-quality personalized jewelry that induces an emotional connection at reasonable prices has been key to our success over the past seven years"
With a slogan that "True artisanship comes from caring hands – not an assembly line," every item

at Jeulia is handcrafted with love and care in their studio, and the dedication is genuinely reflected

in their quality and out-of-the-box designs. As an ode to the best artist of all time, Vincent Van

Gogh, Jeulia has recently released a new jewelry line inspired by his famous painting, Starry Night.

Customers can now own a piece of history with this stunning sterling silver collection, a perfect

accessory for any occasion designed for those who love art and fashion. It's also available during

the anniversary celebration sale at an attractive price!
To learn more about their anniversary sale & to avoid missing out, Visit Jeulia's website today!
Follow Jeulia on social media account:

https://www.facebook.com/JeuliaJewelry/

https://www.pinterest.com/jeuliajewelry/

https://www.instagram.com/jeuliajewelry/

https://www.youtube.com/c/JeuliaRings
Share article on social media or email: