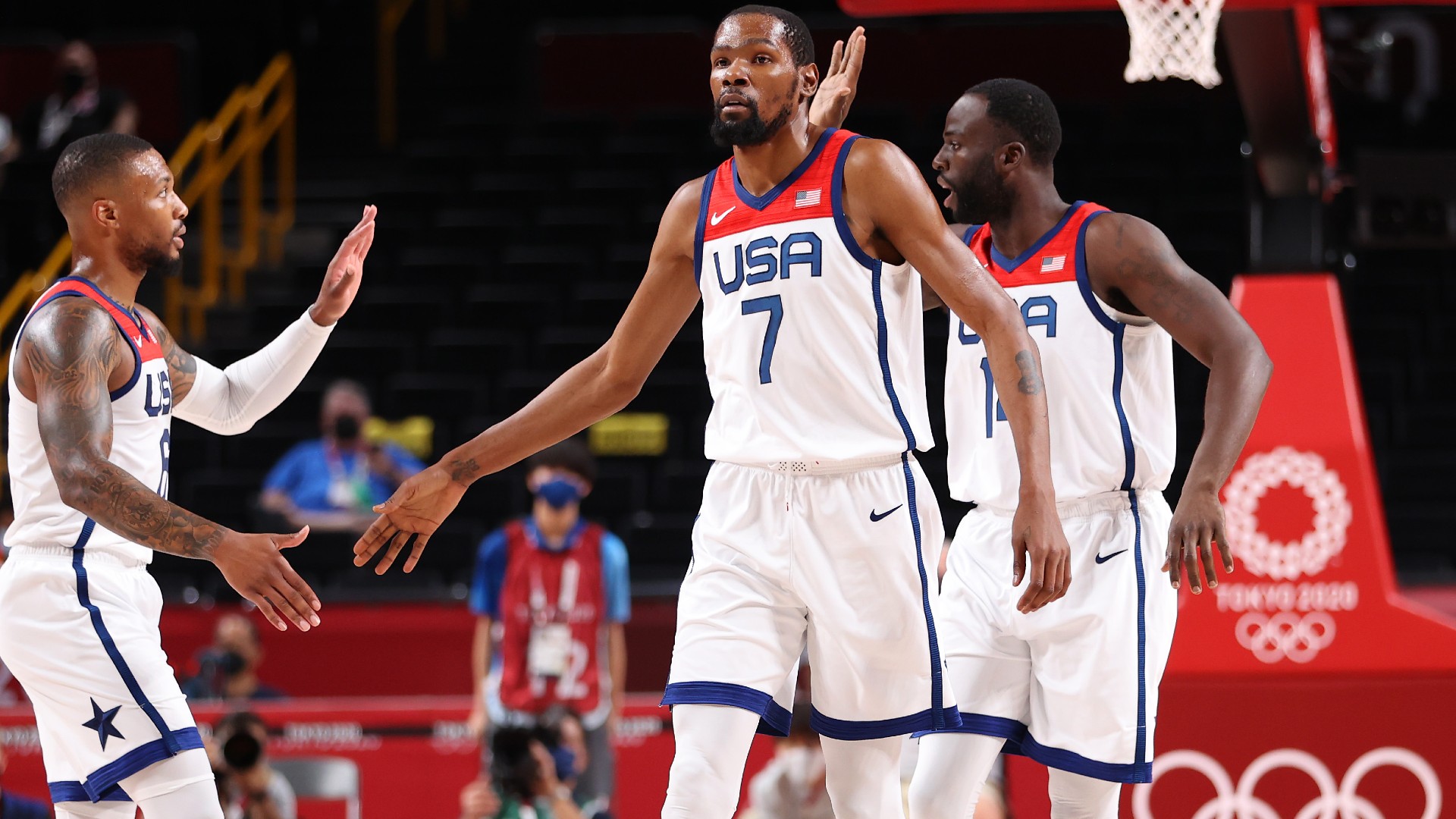 As Devin Booker put it during his postgame interview on Peacock, Thursday's Olympic semifinal contest between the U.S. men's basketball team and Australia was a "tale of two halves."
After falling behind by as many as 15 points in the second quarter and trailing by three at halftime, Team USA clobbered Australia in the third quarter and cruised to a 97-78 victory, securing a spot in the gold-medal game. The Americans outscored the Australians 32-10 in the third period, suffocating the opposition with incredible defensive intensity.
"Guarding, that's what it comes down to," said Booker, who had 20 points and finished a team-high plus-30 in the win. "That's what we talked about in the locker room. Offense is going to come. We have a lot of talented guys out here, but we have to be on the same page on defense."
Kevin Durant put together another terrific all-around performance, totaling 23 points, nine rebounds, two assists, two steals and one block. Jrue Holiday continued what has been a strong tournament run with a near triple-double against the Australians (11 points, eight rebounds, eight assists).
Team USA will face the winner of the France-Slovenia game in the Olympic final.
Sporting News provided live updates and highlights from the U.S. men's basketball team's Olympic game against Australia. Check out all the highlights you missed right here.
MORE: Watch the Olympics live with fuboTV (7-day free trial)
USA vs. Australia score
| | | | | | |
| --- | --- | --- | --- | --- | --- |
| Semifinals | Q1 | Q2 | Q3 | Q4 | Final |
| USA | 18 | 24 | 32 | 23 | 97 |
| Australia | 24 | 21 | 10 | 23 | 78 |
USA vs. Australia live updates, highlights from 2021 Olympics
(All times Eastern)
Final: USA 97, Australia 78
1:55 a.m. — And that's a wrap. Team USA is heading to the gold-medal game.
1:50 a.m. — With four minutes left in regulation and Team USA up by 20 points, Australia appears to be throwing in the towel. Patty Mills and Joe Ingles are walking to the bench.
1:40 a.m. — Team USA is just rolling now.
End of third quarter: USA 74, Australia 55
1:35 a.m. — Zach LaVine puts an exclamation point on an incredible quarter for Team USA. The Americans outscored the Australians 32-10 in the third period. Wow.
1:30 a.m. — Jrue Holiday has been absolutely terrific in this contest. He's got 11 points, seven assists and five rebounds.
1:25 a.m. — Give Kevin Durant the ball and get out of the way.
1:20 a.m. — Kevin Durant drills the midrange jumper, plus the free throw. Team USA starts the third quarter on a 7-0 run.
Halftime: Australia 45, USA 42
1 a.m. — Team USA chops down the deficit with a 14-4 run to end the half. The Americans are lucky to only be down three heading into the locker room.
12:55 a.m. — After 10 consecutive misses, Devin Booker drains Team USA's first 3-pointer of the game.
12:50 a.m. — Oh my. Team USA is down 15 points midway through the second quarter. The Australians are just outplaying the Americans on both ends of the floor.
12:40 a.m. — Chris Goulding is heating up off the bench for Australia. He's got eight points in less than five minutes of action.
Terrible, miserable transition defense. Nobody picks up the ball, gets right into the paint and Goulding hits his second three in a row. U.S needs to figure this out quick. pic.twitter.com/T1gjFSWraO

— Rayan ريان (@rayanelamine15) August 5, 2021
End of first quarter: Australia 24, USA 18
12:35 a.m. — Kevin Durant has eight of Team USA's first 16 points.
12:25 a.m. — Both teams are struggling offensively in the opening minutes. Team USA and Australia have shot a combined 4 of 15 from the field.
12:20 a.m. — Joe Ingles comes out firing, hitting his first two 3-point attempts.
12:15 a.m. — The starters for each team…
USA: Damian Lillard, Jrue Holiday, Devin Booker, Kevin Durant, Bam Adebayo
Australia: Patty Mills, Matthew Dellavedova, Joe Ingles, Jock Landale, Nick Kay
How to watch USA Olympic basketball games
Time: 12:15 a.m. ET | 9:15 p.m. PT
TV channel: N/A live on cable
Live stream: Peacock
The USA vs. Australia men's basketball game won't be broadcast live on cable television. Peacock, NBC's streaming service, is the only place to watch the live action at 12:15 a.m. ET on Thursday. NBCSN is scheduled to air a replay of the 2021 Olympic semifinals at 11 p.m. ET on Thursday.
Men's Olympic basketball schedule 2021
(All times Eastern)
Aug. 5
| | |
| --- | --- |
| Game | Time |
| United States vs. Australia | 12:15 a.m. |
| Slovenia vs. France | 7 a.m. |
Aug. 6
| | |
| --- | --- |
| Game | Time |
| Gold-medal game | 10:30 p.m. |
Aug. 7
| | |
| --- | --- |
| Game | Time |
| Bronze-medal game | 7 a.m. |