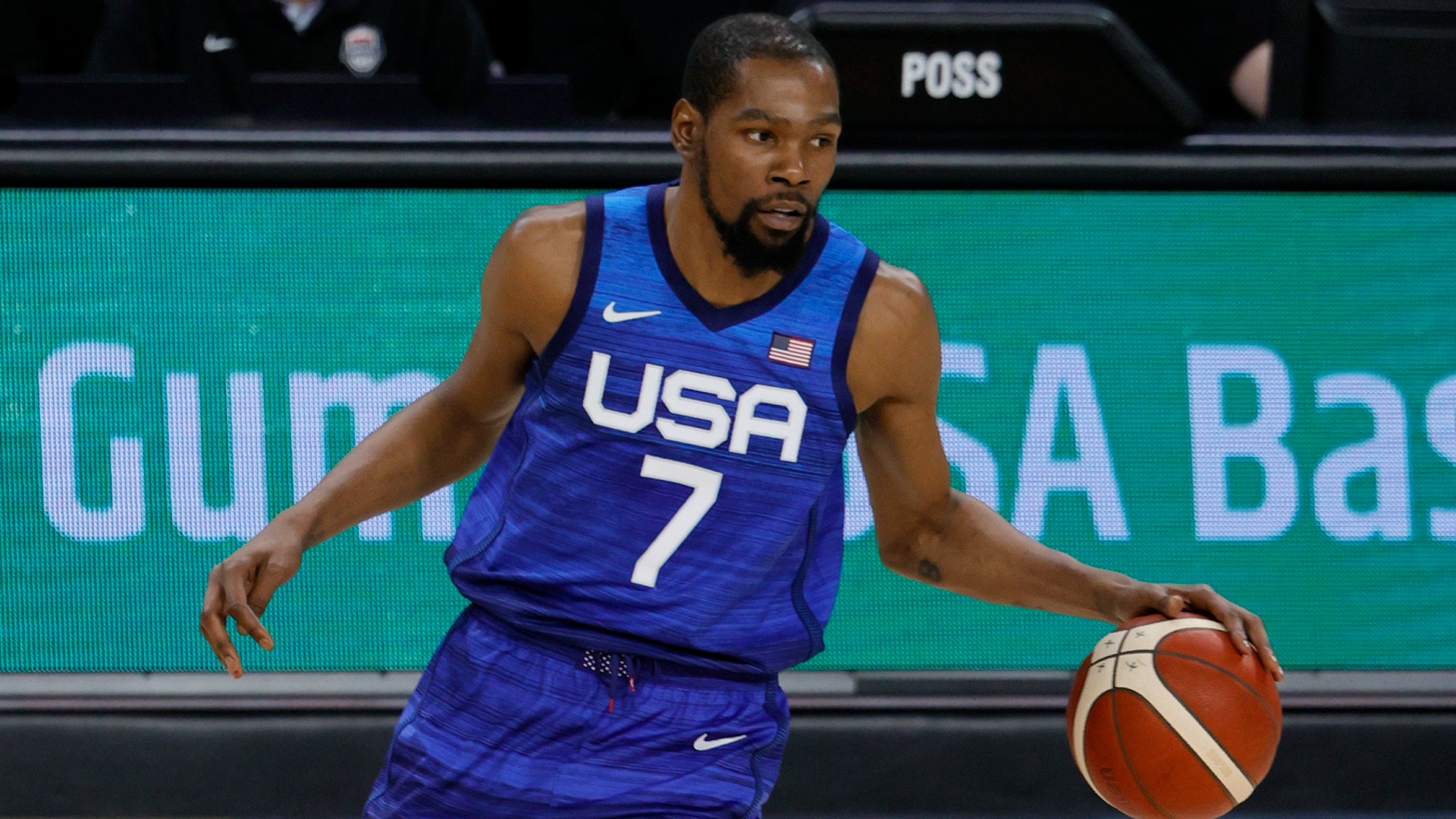 The U.S. men's basketball team looked much more like a gold-medal favorite on Sunday night than in its previous outings.
Team USA displayed its offensive firepower in an 83-76 win over Spain, the squad's final exhibition before it heads to Tokyo for the 2021 Olympics. Damian Lillard (19 points, six assists, four rebounds, four steals, two blocks) and Kevin Durant (14 points, two rebounds, two assists, two blocks) unsurprisingly led the way, but the Americans got a major boost from Keldon Johnson, who was promoted to the main roster after Kevin Love's withdrawal. The Spurs forward had 15 points off the bench and finished with the best plus-minus of any Team USA player (plus-18).
Ricky Rubio scored 23 points in the loss, but his teammates struggled on offense. Spain shot less than 40 percent from the field, including 8 of 29 from 3-point range. 
While Team USA did end its exhibition schedule with a solid victory, plenty of challenges remain. This group is still learning to play together and has yet to incorporate Devin Booker, Jrue Holiday and Khris Middleton. The lack of depth and chemistry will be a concern, particularly when Team USA faces an opponent that has been building its program for years.
Still, coach Gregg Popovich has a lot of talent at his disposal, and Team USA showed Sunday what happens when everything clicks into place.
Sporting News provided live updates and highlights from the U.S. Olympic men's basketball team's exhibition against Spain. Check out all the highlights you missed right here.
MORE: Watch Team USA basketball games live with fuboTV (7-day trial)
USA vs. Spain score
| | | | | | |
| --- | --- | --- | --- | --- | --- |
|   | Q1 | Q2 | Q3 | Q4 | Final |
| USA | 14 | 22 | 21 | 26 | 83 |
| Spain | 18 | 20 | 12 | 26 | 76 |
USA vs. Spain live updates, highlights
(All times Eastern)
Final: USA 83, Spain 76
10:55 p.m. — Team USA turned up the intensity in the second half and captured a solid win in its final exhibition game.
10:50 p.m. — As long as the ball is near the rim, Zach LaVine will take care of it.
10:45 p.m. — Oh, Zach LaVine. That is just rude.
10:40 p.m. — Team USA switches the screening action, and Willy Hernangomez takes advantage of the mismatch.
10:35 p.m. — Keldon Johnson highlight package? Keldon Johnson highlight package.
End of third quarter: USA 57, Spain 50
10:25 p.m. — Team USA takes the lead with a Damian Lillard 3-pointer, then extends it with a Keldon Johnson dunk.
10:20 p.m. — That's former Defensive Player of the Year Marc Gasol to you, sir.
10:10 p.m. — Not a great possession here, but Draymond Green bails out Team USA with the 3-pointer before the shot clock expires.
Halftime: Spain 38, USA 36
9:50 p.m. — After a rough shooting half for both teams, Spain heads into the locker room with a two-point lead. Ricky Rubio leads all scorers with 14 points.
9:45 p.m. — Kevin Durant made Dirk Nowitzki proud with this shot.
9:35 p.m. — Pump fake, side step, cash out. Beautiful move by Rudy Fernandez.
9:30 p.m. — Bam Adebayo spins into the lane and sinks the lefty hook to cut Spain's lead to five.
End of first quarter: Spain 18, USA 14
9:25 p.m. — Ricky Rubio and Marc Gasol running the give-and-go to perfection.
9:15 p.m. — Spain doesn't offer much resistance on Damian Lillard's pull-up 3-pointer. That's automatic for the Trail Blazers star.
9:10 p.m. — The starters for each team…
USA: Damian Lillard, Zach LaVine, Jayson Tatum, Kevin Durant, Draymond Green
Spain: Ricky Rubio, Rudy Fernandez, Alberto Abalde, Victor Claver, Marc Gasol
9 p.m. — Yep, Zach LaVine can still jump very high.
8:50 p.m. — JaVale McGee is in Las Vegas and ready to roll. 
8:35 p.m. — Some good news for Team USA: Jerami Grant should be able to travel to Tokyo after clearing health and safety protocols.
Jerami Grant is expected to be cleared from quarantine and will be available to travel with Team USA to Japan, sources said. Americans have final exhibition against Spain set for 9 p.m. ET.

— Brian Windhorst (@WindhorstESPN) July 18, 2021
How to watch USA basketball
All five men's exhibition games will be broadcast live on NBCSN. You can also stream Team USA games online with fuboTV, which offers a free seven-day trial.
| | | | |
| --- | --- | --- | --- |
| Date | Game | Time (ET) | TV channel |
| July 10 | USA vs. Nigeria | 8 p.m. | NBCSN |
| July 12 | USA vs. Australia | 8 p.m. | NBCSN |
| July 13 | USA vs. Argentina | 6 p.m. | NBCSN |
| July 16 | USA vs. Australia | Canceled | NBCSN |
| July 18 | USA vs. Spain | 9 p.m. | NBCSN |
When do the Olympics start?
The opening ceremony at the 2021 Olympics is July 23. The men's basketball tournament tips off two days later on July 25 and ends with the medal games on Aug. 6-7.
Team USA is one of 12 teams to qualify for the Tokyo Olympics. It will be playing in Group A. Its group-play opponents will be France, Iran and the Czech Republic. 
| | | |
| --- | --- | --- |
| Date | Game | Time (ET) |
| July 25 | USA vs. France | 8 a.m. |
| July 28 | USA vs. Iran | 12:40 a.m. |
| July 31 | USA vs. Czech Republic | 8 a.m. |
| Aug. 3 | Men's basketball quarterfinals | TBD |
| Aug. 5 | Men's basketball semifinals | TBD |
| Aug. 6 | Men's basketball gold-medal game | TBD |
| Aug. 7 | Men's basketball bronze-medal game | TBD |