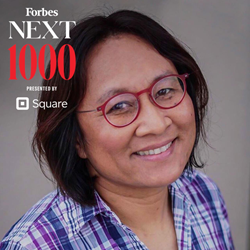 Sustainability, targeted marketing results and efficient turn-key 3D digital solutions are the keys to giving all of the impacted a fighting chance to survive the future. The OHZONE provides exactly that and it is what we stand for.

SAN FRANCISCO (PRWEB)
June 24, 2021
The OHZONE, Inc. and founder, Oh Tepmongkol, have been recognized and honored in the Forbes Next 1000 Class of 2021. Forbes Next 1000 highlights the world's most promising new entrepreneurs, a group consisting entirely of sole proprietors and self-funded and pre-revenue startups. Founder Oh Tepmongkol was recognized for her outstanding achievements and innovation at The OHZONE, a B2B fashion technology company democratizing virtual fashion with turnkey 3DREAL™ digitization services and instant virtual showrooms. The startup's technology makes digital fashion highly-accessible to small and medium businesses for B2B and B2C sales.
The first edition of the annual Forbes list spotlights bold and inspirational entrepreneurs traditionally underrepresented in the media due to company size or funding. Nevertheless, this diverse group of professionals are redefining business, taking innovative approaches in a "new normal" world. The Class of 2021 was selected from a pool of public submissions by highly-regarded experts and business professionals, including Goldman Sachs Foundation president, Asahi Pompey, Grammy Award-winning singer/songwriter Ciara, entrepreneur and restaurateur Ayesha Curry, World Series champion and entrepreneur, Alex Rodgriguez, and Ariel Investments co-CEO and president, Mellody Hobson.
Tepmongkol's launch is timely. The OHZONE's 3DREAL™ virtual fashion technology helps retailers and brands build trust in a digital age. Their products are scanned and digitized with the company's proprietary technology, allowing them to share fully rotatable, zoomable, high-detail images online. Both consumers and wholesale buyers are able to fully perceive the nuances of color, fabric, texture, hardware and other key details prior to making e-commerce decisions. 3DREAL™ technology simultaneously elevates the online shopping experience, presenting B2B and B2C consumers with interactive and engaging photorealistic visuals and virtual try-on capabilities.
The OHZONE lowers the barriers of entry so that more fashion businesses may successfully disrupt, evolve and grow online; their technology eliminates the need for small and medium-sized businesses to invest in 3D graphic engineers, VR/AR interfaces or 3D apps. The company hosts the 3D images, ready to be used for e-commerce, marketing, virtual fashion, sustainable sample production and more. Companies are able to produce, market and sell with a smaller carbon footprint while increasing conversion rates and reducing e-commerce returns. The company's patented 3DREAL™ technology has been recognized by Retail Tech Insights, as Top Fashion Tech 2021, covered in the Vogue Startup Spotlight, and were one of the Top 200 for Tommy Hilfiger Fashion Frontier Sustainability Challenge 2021.
Tepmongkol did not speak English when she immigrated to Texas from Thailand at age 15. She founded The OHZONE, with no external funding, following a successful career in tech. She says, "Fashion is a unique industry that largely affects Mother Earth and three groups of women: consumers, garment workers and small and medium-sized brands which are mostly women-owned. Due to the pandemic, the industry is going through a disruptive phase that has been a long time coming. New consumer behavior is forcing businesses to adapt to digital transformations that are reshaping industry standards. Sustainability, targeted marketing results and efficient turn-key 3D digital solutions are the keys to giving all of the impacted a fighting chance to survive the future. The OHZONE provides exactly that and it is what we stand for."
Share article on social media or email: