TWENTY THREE Rooftop Bar's Friday brunch is back and guests can enjoy a feast of appetizing dishes alongside a variety of exquisite drinks. Located on the 23rd floor of Grand Plaza Movenpick Media City, TWENTY THREE offers a great spot for after-work or dinner experiences as you enjoy the views of the Arabian Gulf and views of the city, especially during sunset time.
Also Read: 6 Best Rooftop Bars in Dubai
It's good to know that events and activities in Dubai are open under strict safety guidelines. The Friday brunch follows a '23' theme and begins from 1:23pm to 4:23pm. Instead of a buffet set-up, the food is served on your table.
Alcohol: YES
Shisha: YES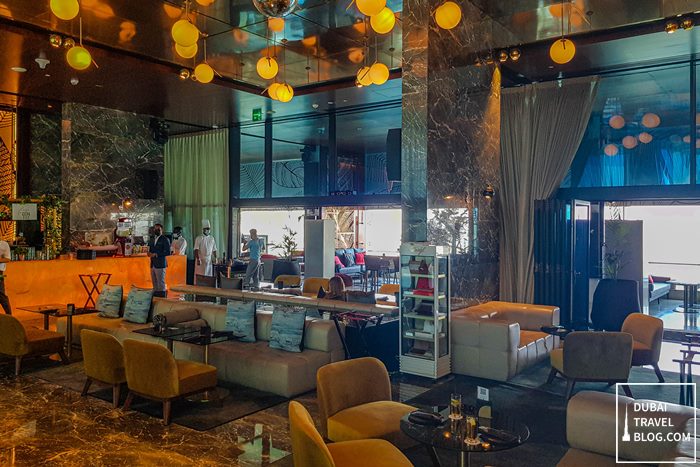 getting ready for the Friday brunch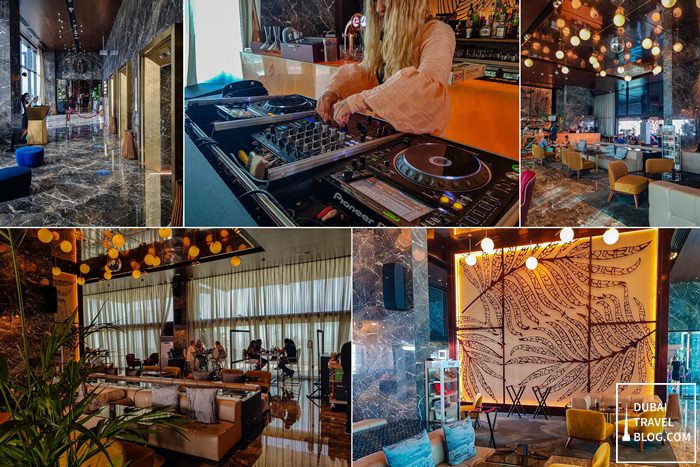 a place to chill-out
Twenty Three Rooftop Bar in Grand Plaza Mövenpick Media City
Guests at TWENTY THREE can expect a culinary affair amid panoramic urban sunset views across The Palm Jumeirah and the Arabian Gulf. The place is relaxed and unpretentious, making it an ideal atmosphere for a chill yet classy weekend afternoon.
Friday Brunch lets you explore different flavors with Chef Marco Amarone's signature dishes as well as an eclectic beverage menu. There's also live entertainment available for the complete weekend fun experience.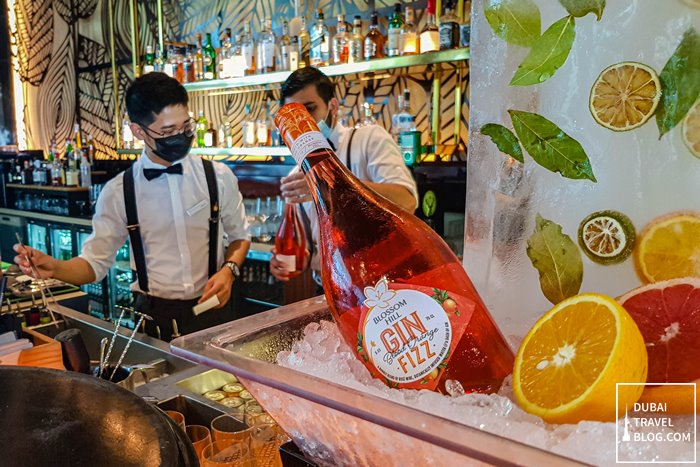 bartenders preparing the drinks for the Friday brunch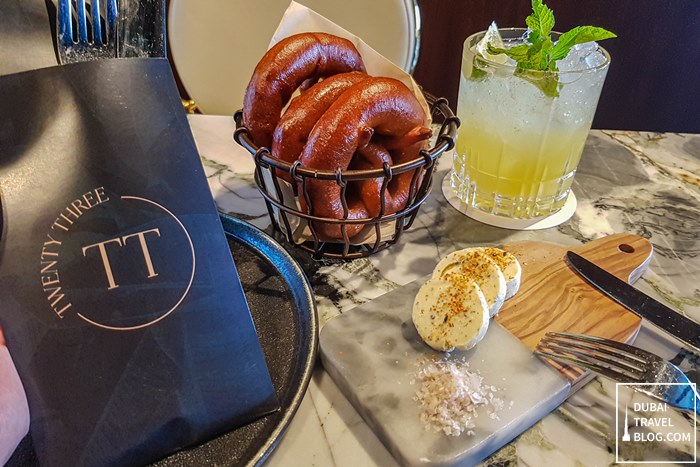 pretzels, herbed margarine slices and salt with truffle oil, and a passionfruit vodka drink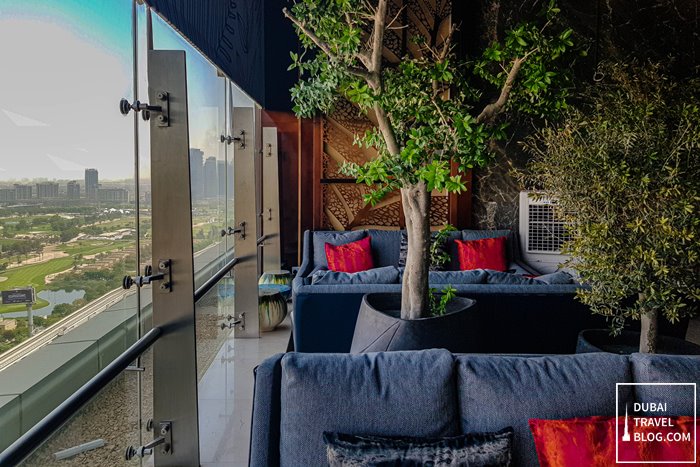 Cold Appetizers
For the cold appetizers, the ones that stood out were the oysters and the sushi and ceviche.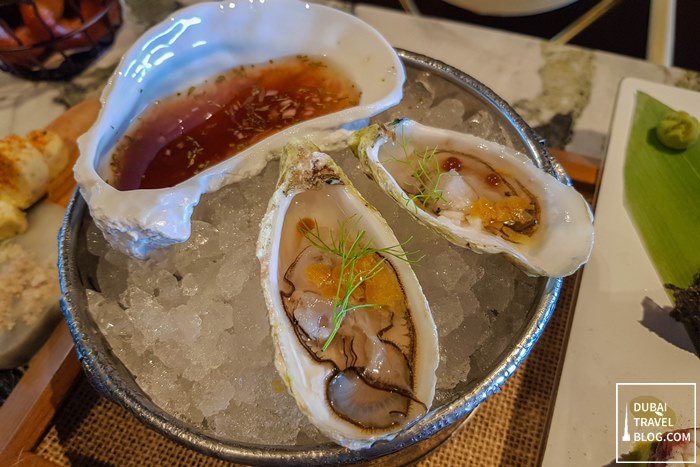 Fine de Clare Oysters Smoked Salt and Bottarga
Carne Cruda with Burrata and Osetra Caviar, , F, Scallops Papillote with Côtes de Provence Rosé Beurre Blanc and .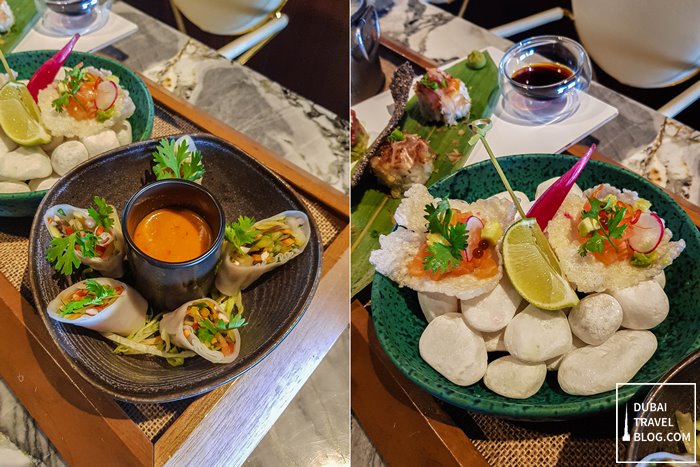 Fresh Vegetable Spring Rolls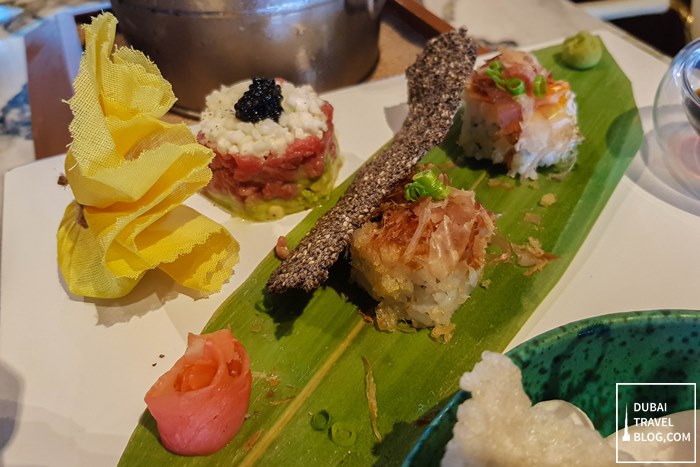 Salmon Coriander and Lime Ceviche
sushi
Hot Appetizers
Aside from the cold appetizers, Twenty Three bar also has a selection of hot starters. The pumpkin dumplings, scallops, and foie gras were really good.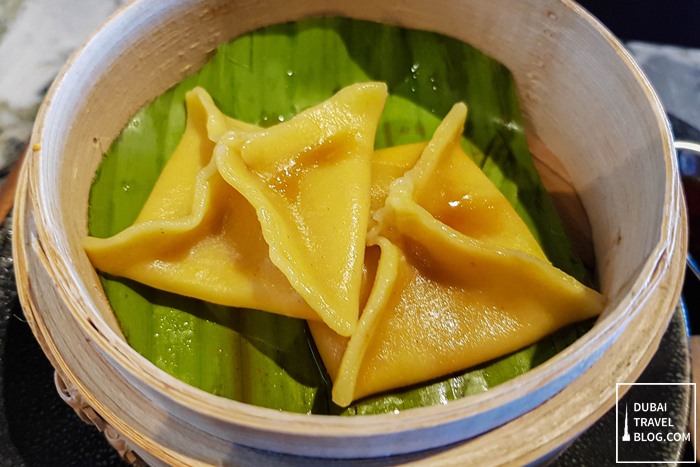 Pumpkin Dumpling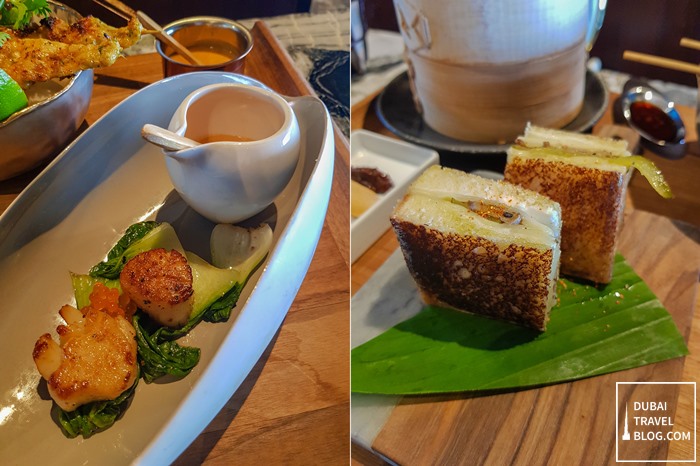 Scallops
Foie Gras Croque Monsiuer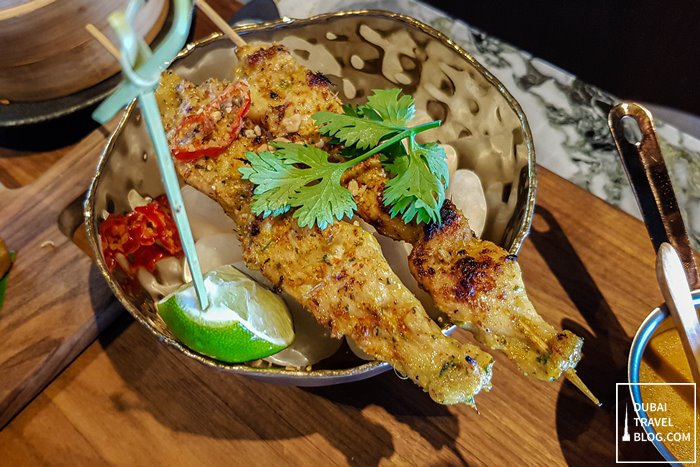 Chicken Satay with peanut dip and chili vinaigrette
Main Course
Chef Marco's Lobster Linguini cannot be missed. Another thing is the Butter Poached Gindara (fish) and the tasty Grilled Togarashi Skewered Quail Legs. They have enough main dishes that will satisfy you. Pick a few or pick small servings of all.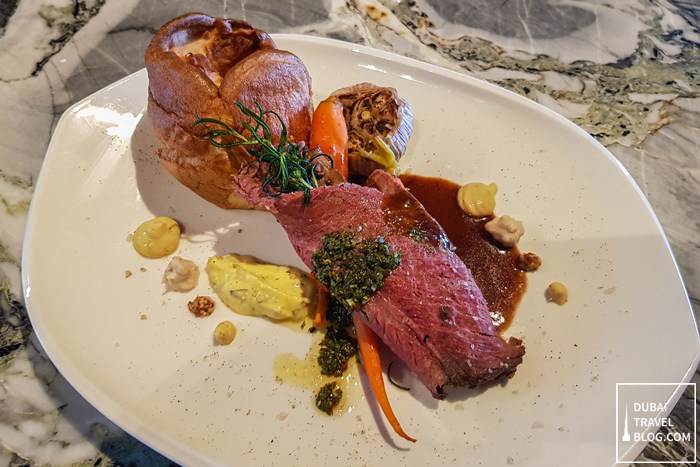 Slow Roasted Prime Rib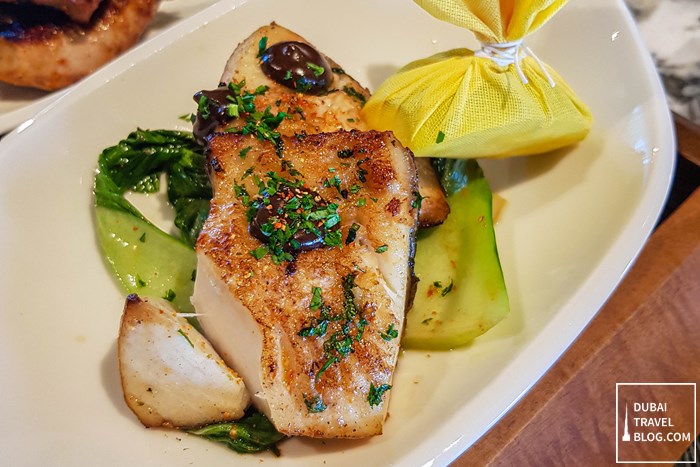 Butter Poached Gindara with Black Garlic Aioli and Fresh Lime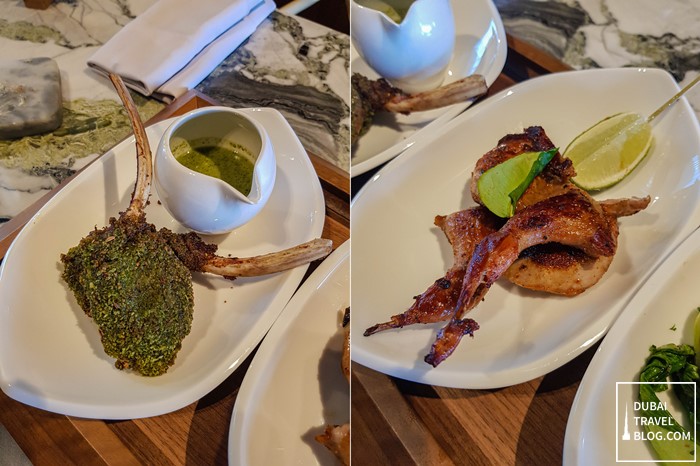 Almond Crusted Lamb Cutlets
Grilled Togarashi Skewered Quail Legs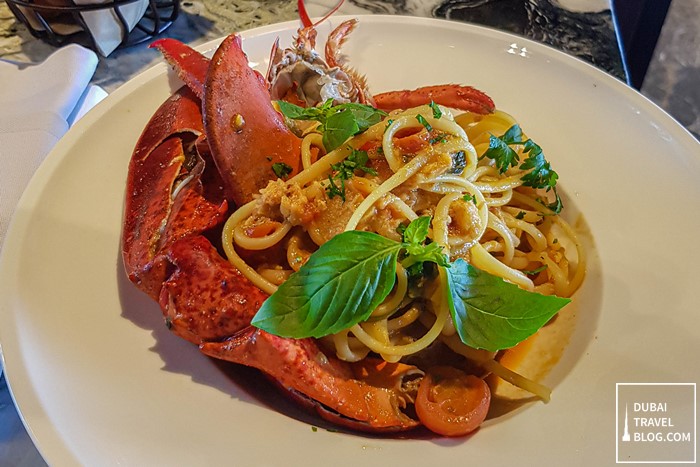 Chef Marco's Lobster Linguini
Desserts
Brunch experience always need desserts and Twenty Three has prepared a variety of them. I really enjoyed the Baba au Grand Marnier and the Yogurt Gelato.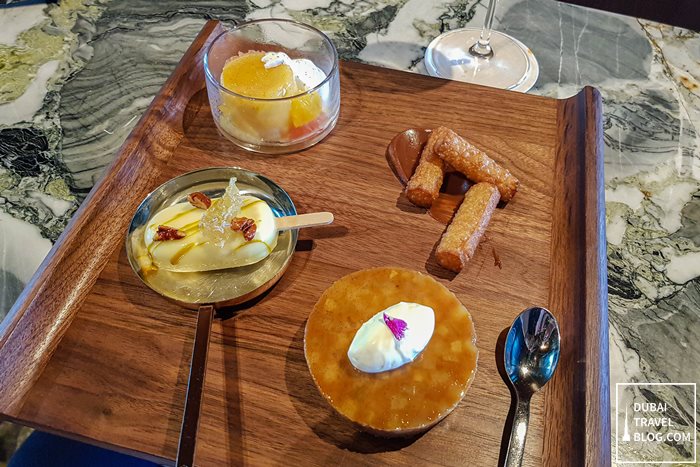 Baba au Grand Marnier, Saffron Churros with Spicy Chocolate Ganache, Yogurt Gelato with Honeycomb and Mini Apple Tatin with Crème Fraiche Anglais
Drinks
Twenty Three offers a full bar set-up where you can enjoy a variety of soft beverages, juices, mocktails, beer, wines, spirits, signature cocktails, etc. They have a beverage cart so you can sit nicely at your table while they prepare the drinks in front of you.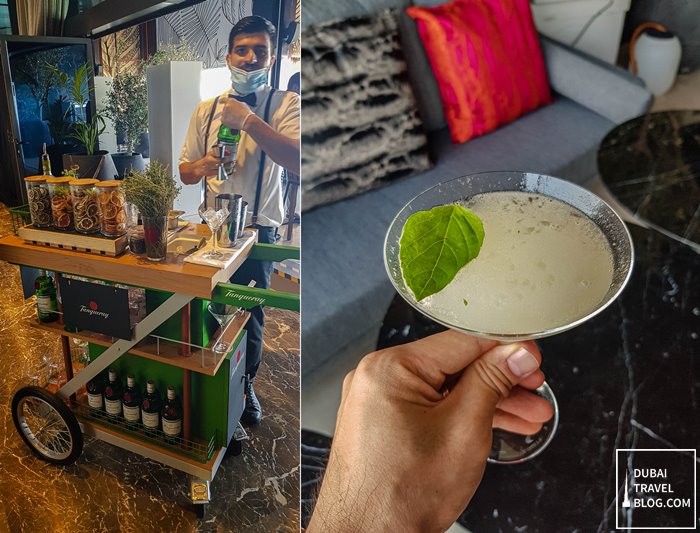 Slim Martini prepared on my table
Tanqueray London dry shaken with freshly squeezed grapefruit juice, homemade rosemary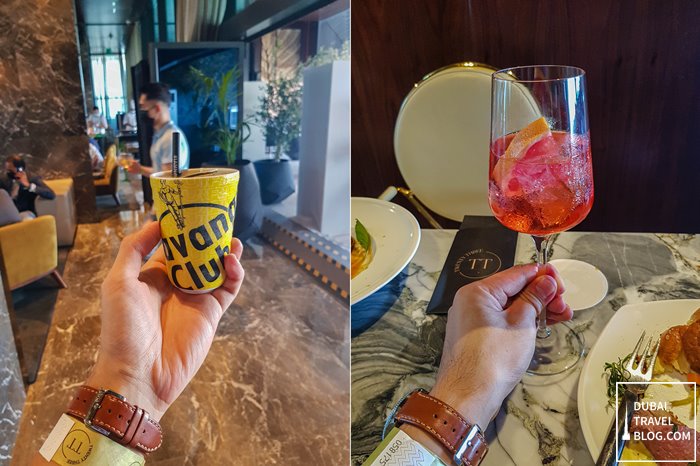 endless drinks when you get the 2nd package
TWENTY THREE Brunch
Timings: Every Friday, 1:23 pm to 4:23 pm from June 11, 2021
Prices
Package 1: AED 249 per person inclusive of non-alcoholic beverages, juices and soft drinks
Package 2: AED 369 per person inclusive of signature mixed house beverages, crafted hops, grapes, sparkling and spirits.
All prices are inclusive of 7% Municipality Fee, 10% Service Charge and 5% Value Added Tax (VAT). Strictly above 21 of age only. Terms
and conditions apply
Chill out as you sip on our signature cocktails surrounded by the sophisticated ambiance of our roof top bar located on the 23rd floor.
It is easy to get inspired when you are surrounded by stunning designs. Visit us for an unforgettable and inspirational experience overlooking the Arabian Gulf.
– Twenty Three Bar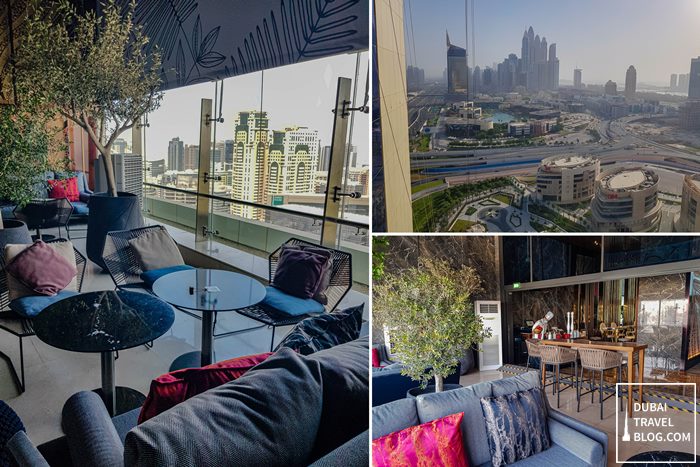 chill place with a view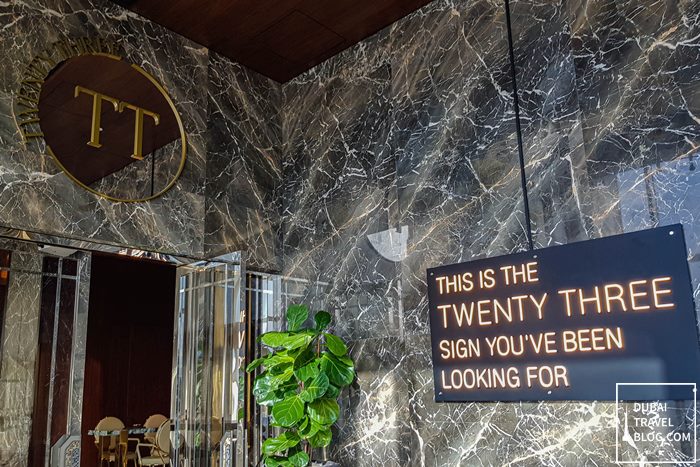 Twenty Three Rooftop Bar
Video: TWENTY THREE Rooftop Bar
Check out this quick video of the rooftop bar Friday Brunch experience at TWENTY THREE:
Contact Information
Twenty Three Rooftop Bar
Address: Address: Level 23, Grand Plaza Mövenpick, Sheikh Zayed Rd – Al Sufouh, Dubai Media City, Dubai
Phone: 054 793 1425
Website: https://www.movenpick.com/en/middle-east/uae/dubai/grand-plaza-movenpick-media-city/restaurants/twenty-three/
Instagram: @tt_dxb
Facebook: @ttdxb
Google Map Location
Below is a map guide to the location of Twenty Three Rooftop Bar. There is self-parking available in the basement of Movenpick Hotel Grand Plaza: