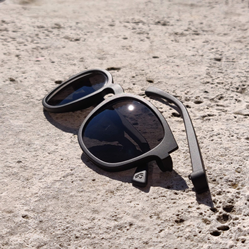 Hard to imagine a pair of sunglasses like this exists? Try sitting on a pair of Francis Pike's: seeing is believing.

AREZZO, Italy (PRWEB)
June 14, 2021
Francis Pike is two Italian brothers, Francesco and Lucio. They are taking their place in the world of eyewear with a new, groundbreaking frame for sunglasses that will revolutionize the industry.
With no screws and no springs, the main focus is the magnetic force that keeps the hinges together. This gives the comfort and steadiness of a normal pair of sunglasses, but without any of the fragility. The quality of the magnets, paired with the design of the hinges, allows for the temples to simply detach when reaching the maximum point of stress.
"[…] How many times have we had to replace broken sunglasses? Or had to say goodbye to a favorite pair, even though they looked so good? Not to mention all of those DIY attempts to keep them from falling apart… we've all experienced something like this at least once…"
These are the problems that Francis Pike wanted to overcome without compromising on affordability, sustainability and style.
After more than a year dedicated to research, tests and prototypes, it was time to request a patent. The outcome is a pair of sunglasses that, even under extreme stress conditions, comes apart safely and can be put back together very quickly, unlike the rest.
It is very important to underline the fact that the magnets are shielded, so don't worry about becoming Magneto or trying to avoid metal objects because the magnetic field is reduced to the minimum.
While the hinges are obviously the strong suit of Francis Pike, the rest of the components, frame and lenses, are equally impressive. Since the goal is to create a time-resistant pair of sunglasses, the choice of materials was calculated. The lenses are made of polyamide and they guarantee high-impact resistance, as well as extreme lightness and HD clarity, including UV-protection. The frame is created from an eco-friendly polymer, made mostly of castor oil, which guarantees both durability and flexibility at the same time; as a matter of fact, if you step on them they don't bend or break, but conveniently detach at the stress points.
Hard to imagine a pair of sunglasses like this exists? Try sitting on a pair of Francis Pike's: seeing is believing.
Learn more at: https://www.prelaunch.francispike.com/
Press Kit: https://bit.ly/3cdhnqd
The Kickstarter crowdfunding campaign will start on June 15, 2021 @8am CEST: https://www.kickstarter.com/projects/francispike/francis-pike-magnetic-sunglasses-that-wont-hold-you-back
Share article on social media or email: