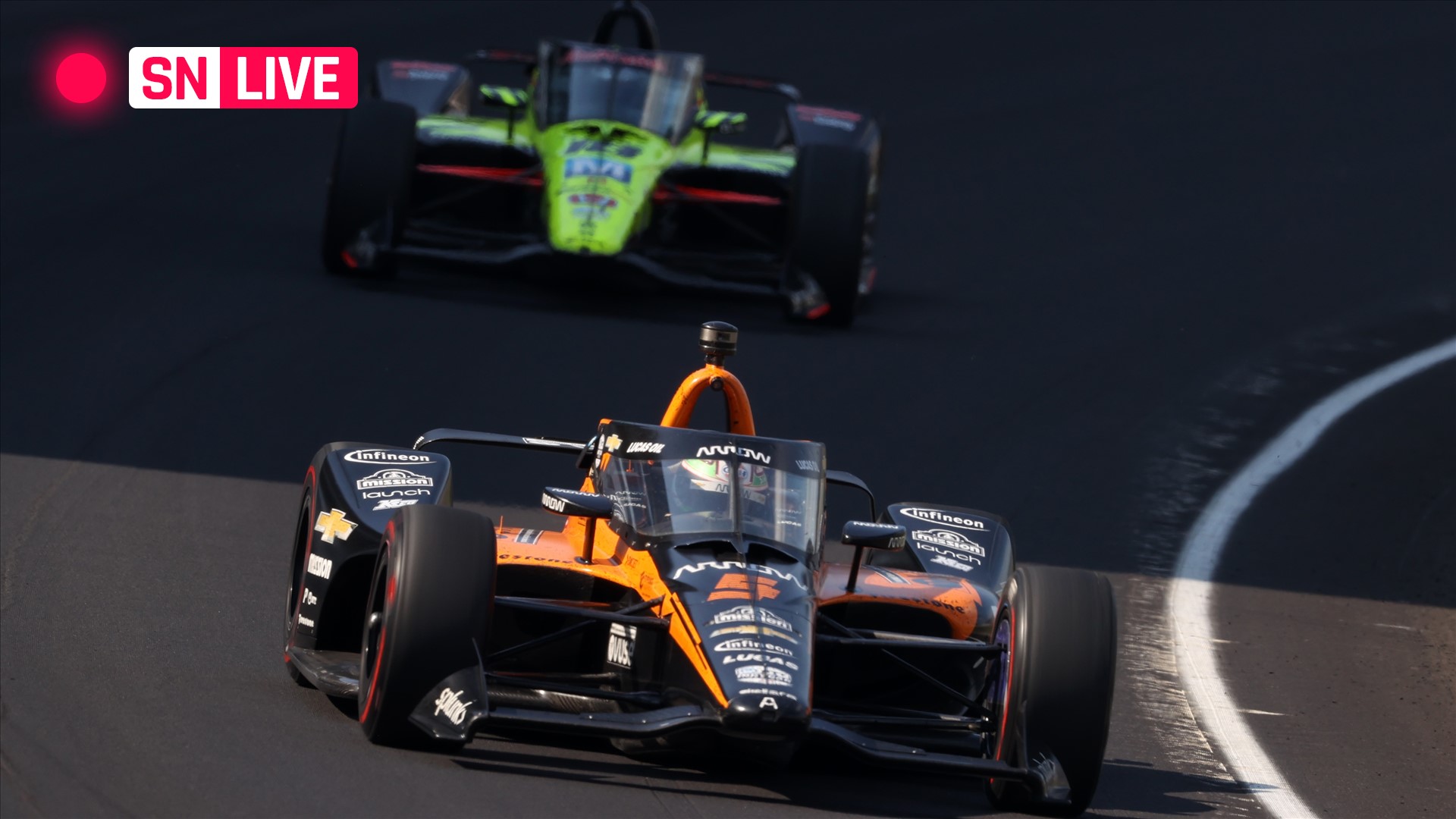 Helio Castroneves made history on Sunday, winning his fourth Indy 500 race and tying A.J. Foyt, Al Unser Sr. and Rick Mears for most victories there all time.
He finished the race in 2:39:50 — the fastest in history, surpassing the 2013 record set by Tony Kanaan , when he finished at 2:40:03. Castroneves came in 0.493 seconds ahead of second-place finisher Alex Palou.
MORE: Watch IndyCar races live with fuboTV (7-day free trial)
"Spider-Man" was constantly in the mix for the top spot in the race, but fell behind Palou late. But on the second-to-last lap, Castroneves was able to pull in front of Palou to take home the Indy 500 title.
The Indianapolis Motor Speedway opened its gates to 135,000 people to see the race in person , the largest gathering since the beginning of the COVID-19 pandemic.
Sporting News tracked live updates and highlights from the Indianapolis 500 on Sunday. Read below for complete results from the 2021 race at the Brickyard.
Indy 500 results
Helio Castroneves tied the Indy 500 record with the fourth win of his career, passing Alex Palou on the second-to-last lap and holding onto the lead late.
He joins Foyt, Unser Sr. and Mears as the only drivers ever to win the race four times. At 46 years old, Castroneves is one of the oldest Indy 500 drivers to come in first place; Unser Sr. won the race at 47 years, 360 days old.
| Pos. | Driver |
| --- | --- |
| 1. | Helio Castroneves |
| 2. | Alex Palou |
| 3. | Simon Pagenaud |
| 4. | Pato O'Ward |
| 5. | Ed Carpenter |
| 6. | Santino Ferrucci |
| 7. | Sage Karam |
| 8. | Rinus VeeKay |
| 9. | Juan Pablo Montoya |
| 10. | Tony Kanaan |
| 11. | Marcus Ericsson |
| 12. | Josef Newgarden |
| 13. | Conor Daly |
| 14. | Takuma Sato |
| 15. | J.R. Hildebrand |
| 16. | Colton Herta |
| 17. | Scott Dixon |
| 18. | Jack Harvey |
| 19. | Marco Andretti |
| 20. | Scott McLaughlin |
| 21. | James Hinchcliffe |
| 22. | Ryan Hunter-Reay |
| 23. | Pietro Fittipaldi |
| 24. | Sebastien Bourdais |
| 25. | Dalton Kellett |
| 26. | Max Chilton |
| 27. | Felix Rosenqvist |
| 28. | Ed Jones |
| 29. | Alexander Rossi |
| 30. | Will Power |
| 31. | Simona de Silvestro |
| 32. | Graham Rahal |
| 33. | Stefan Wilson |
Indy 500 highlights from 2021 race
3:24 p.m.: Castroneves has won his fourth Indy 500, tying himself for the most in race history. He is only the fourth driver to accomplish the feat.
3:23 p.m.: Castroneves passes Palou on the second-to-last lap. He's now trying to hold Palou off for what would be his fourth Indy 500 title.
3:23 p.m.: Palou is back out in front. He was riding behind Rosenqvist to give himself a little more space ahead of Castroneves with three laps remaining.
3:20 p.m.: Sato and Rosenqvist both pit, and Castroneves is officially back in first place with six laps remaining. Palou is trying to move out in front.
3:15 p.m.: Pagenaud moves up into the mix with Palou, Castroneves and O'Ward. Still 12 laps left to go in the race, with Palou likely out in front as Rosenqvist and Sato will need a pit stop soon.
3:10 p.m.: Palou takes the outside and passes Castroneves on Lap 180 as a number of the current leaders are forced to pit.
3:05 p.m.: After losing a lap earlier in the race, Dixon is moving back up and he has now made likely his final pit stop. Dixon is up to No. 18.
3:03 p.m.: Castroneves cuts in ahead of Palou at Lap 170 to take the lead.
2:59 p.m.: Palou, Castroneves and O'Ward are the current top three, respectively, at Lap 163. None of them has had a pit stop in at least the past 13 laps.
2:51 p.m.: Power has some issues on pit road, as he has to be moved backwards during his stop.
2:50 p.m.: At Lap 150, Castroneves is ahead with O'Ward, Pagenaud, Sato and Power just behind him. Castroneves heading for the pit lane.
2:37 p.m.: Josef Newgarden, who started the race in the No. 21 spot in the race, is all the way up to fifth in the current standings.
2:35 p.m.: Listen to Rahal after he was knocked out of today's race.
2:34 p.m.: O'Ward is back out in front at Lap 129.
2:32 p.m.: The green flag is back out. Castroneves takes the lead over Palou at Lap 126.
2:31 p.m.: Here's a look at the incident that took Rahal out of the Indy 500.
2:23 p.m.: Rahal's left rear tire comes off, causing him to crash into the wall. Daly hits the left wheel, but is driving alright so far.
2:22 p.m.: Caution flag comes out after Rahal was in a crash coming out of the pit row. His afternoon is over.
2:19 p.m.: Palou takes the lead on Lap 119 as Graham Rahal goes to a pit stop.
2:08 p.m.: Daly remains in the lead ahead of VeeKay, O'Ward, Hunter-Reay and Herta as the race hits Lap 100.
2:01 p.m.: Now Daly is back out ahead of VeeKay at Lap 88 ahead of VeeKay, O'Ward, Herta and Ryan Hunter-Reay.
1:56 p.m.: After a number of pit stops, VeeKay is back in the lead in front of Daly, Pato O'Ward, Herta and Palou at Lap 84.
1:52 p.m.: Herta takes the lead over Castroneves on Lap 77 before both drivers head for a pit stop.
1:48 p.m.: Daly makes a pitstop and Castroneves takes the lead on Lap 72.
1:45 p.m.: Dixon and Rossi haven't been able to make up much ground since falling behind a lap. Rossi is in 31st and Dixon is in 32nd through 66 laps. Both were considered among the top contenders for this year's Indy 500.
1:40 p.m.: Here are the current top five racers through 59 laps: Daly, VeeKay, Castroneves, Herta and Alex Paloul respectively.
1:33 p.m.: Conor Daly, who started in the No. 19 spot, takes the lead over Herta and VeeKay.
1:30 p.m.: The race is back to green.
1:30 p.m. Rossi is ready to get his lap back.
1:24 p.m.: Hear from Wilson after he was involved in a crash that took him out of the Indy 500.
1:22 p.m.: Herta is now leading on Lap 40, with VeeKay back up to second after he was the first to drive into pit lane. Dixon and Alexander Rossi are both down a lap.
1:16 p.m.: Dixon had to come into pit row and now his car will not restart after his car ran out of fuel.
1:14 p.m.: Here's a look at Wilson's crash that took him out of the race and brought out a caution flag.
1:11 p.m.: Stefan Wilson is involved in a pit-row crash. A number of other cars are already in the pits. This will bring out a yellow flag.
1:10 p.m.: Carpenter becomes the second Chevy to head to the pits. Two Hondas have also come in around Lap 33.
1:09 p.m.: VeeKay is coming to the pits. The rest of the top five remained rolling along.
1:05 p.m.: VeeKay, the 2020 IndyCar Rookie of the Year, is still leading the Indy 500 25 laps into the race. He is coming off a win in the GMR Grand Prix.
12:59 p.m.: Helio Castroneves passed Tony Kanaan for fifth-place on Lap 18. VeeKay, Herta, Dixon, Ed Carpenter are the top four.
12:54 p.m.: Power has moved up from his starting position of 32 all the way up to 25 on Lap 7.
12:50 p.m.: Rinus VeeKay is leading for the start with Colton Herta in second and Scott Dixon in third on Lap 5 of the race.
12:47 p.m.: The race has begun.
12:45 p.m.: NBC broadcast saying Will Power's car did not start, but now he is rolling and he has to catch up to the last row.
12:40 p.m.: Drivers have been instructed to start their engines.
12:40 p.m.: Jim Cornelison sings "Back Home in Indiana" before the race.
12:31 p.m.: Listen to the signing of the National Anthem.
12:20 p.m.: Pre-race ceremonies are underway.
12:16 p.m.: Fans are on hand to watch the race. Take a look at the sight of fans packed back into the Indianapolis Motor Speedway.
12:03 p.m.: As drivers are introduced, last year's winner, Takuma Sato, receives a standing ovation for the first time in front of fans since winning his second Indy 500.
How to watch the Indianapolis 500
For those who won't be able to watch the Indy 500 on cable, there are many options to stream the Greatest Spectacle in Racing. Instead of purchasing NBC Sports Gold's IndyCar Pass as in past years, racing fans can subscribe to Peacock Premium , which will have access to all IndyCar racing content that the previous service had.
There are also other options for streaming. Below are the links for each one.
Indy 500 starting lineup
Most of the 33-car Indy 500 starting lineup was set May 22, when the 10-30 spots were set based on qualifying times. The nine fastest drivers then competed in the Fast Nine Shootout to set the order for the first nine spots.
Here are the complete qualifying results from the Indianapolis 500:
| | | |
| --- | --- | --- |
| Pos. | Car No. | Driver |
| 1 | 9 | Scott Dixon |
| 2 | 26 | Colton Herta |
| 3 | 21 | Rinus VeeKay |
| 4 | 20 | Ed Carpenter |
| 5 | 48 | Tony Kanaan |
| 6 | 10 | Alex Palou |
| 7 | 28 | Ryan Hunter-Reay |
| 8 | 6 | Helio Castroneves |
| 9 | 8 | Marcus Ericsson |
| 10 | 27 | Alexander Rossi |
| 11 | 18 | Ed Jones |
| 12 | 5 | Pato O'Ward |
| 13 | 51 | Pietro Fittipaldi |
| 14 | 7 | Felix Rosenqvist |
| 15 | 30 | Takuma Soto |
| 16 | 29 | James Hinchcliffe |
| 17 | 3 | Scott McLaughlin |
| 18 | 15 | Graham Rahal |
| 19 | 47 | Conor Daly |
| 20 | 60 | Jack Harvey |
| 21 | 2 | Josef Newgarden |
| 22 | 1 | J.R. Hildebrand |
| 23 | 45 | Santino Ferrucci |
| 24 | 86 | Juan Pablo Montoya |
| 25 | 98 | Marco Andretti |
| 26 | 22 | Simon Pagenaud |
| 27 | 14 | Sebastien Bourdais |
| 28 | 25 | Stefan Wilson |
| 29 | 59 | Max Chilton |
| 30 | 4 | Dalton Kellett |
| 31 | 24 | Sage Karam |
| 32 | 12 | Will Power |
| 33 | 16 | Simona de Silvestro |