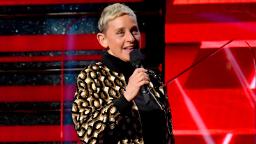 Ellen DeGeneres has been hosting her daytime talk show for 18 seasons.
DeGeneres was born in Metairie, Louisiana, in 1958.
A young DeGeneres poses for a family photo.
DeGeneres is interviewed by Johnny Carson on a "Tonight Show" episode in 1986. She was a stand-up comedian whose career began as an emcee at a New Orleans comedy club.
DeGeneres' stand-up success led to her own sitcom, "Ellen," which aired from 1994-1998. The show was actually called "These Friends of Mine" in its first season, but the name was changed to avoid confusion with another new sitcom, "Friends."
DeGeneres, left, and Patricia Richardson co-hosted the Primetime Emmy Awards in 1994.
DeGeneres got her first starring role in a movie when she starred with Bill Pullman in 1996's "Mr. Wrong."
During an "Ellen" episode in 1997, DeGeneres became the first lead actor in a sitcom to come out as gay. Earlier that month, DeGeneres herself came out during an episode of "The Oprah Winfrey Show."
DeGeneres and her mother, Betty, attend the Los Angeles Gay & Lesbian Center's 27th Anniversary Gala in 1998.
DeGeneres appears in the 1999 movie "The Love Letter."
DeGeneres and Sharon Stone receive direction from director Anne Heche, left, on the set of the TV movie "If These Walls Could Talk 2." Heche and DeGeneres were in a relationship for several years.
DeGeneres hosts the Primetime Emmy Awards in 2001. During her career, DeGeneres has also hosted the Academy Awards and the Grammy Awards.
DeGeneres began her daytime talk show, "The Ellen DeGeneres Show," in 2003. Joining her on set here is actress Jennifer Aniston.
DeGeneres accepts an Emmy Award on behalf of her show in May 2004. "The Ellen DeGeneres Show" was recently extended to 2022.
DeGeneres carries the Olympic torch in Los Angeles in June 2004.
DeGeneres and actress Portia de Rossi started dating in 2004. They were married in 2008.
DeGeneres carries an Oscar as she hosts the Academy Awards in 2007.
DeGeneres dances with presidential candidate Barack Obama during an episode of her talk show in 2007. Obama was elected president in 2008.
DeGeneres and de Rossi pose for photos after being married in 2008.
DeGeneres poses with Rosie McClelland and Sophia Grace Brownlee at the 2012 Teen Choice Awards. The young musical duo became popular with their regular appearances on DeGeneres' show.
DeGeneres poses with her new star on the Hollywood Walk of Fame in 2012.
DeGeneres, US Marines and children attend the launch of Duracell's "Power a Smile" program in 2013.
DeGeneres dresses up as Glinda the Good Witch while hosting the Oscars in 2014.
DeGeneres and de Rossi arrive at the Vanity Fair Oscar Party in 2014.
First lady Michelle Obama hugs DeGeneres after they danced during an episode of "The Ellen DeGeneres Show" in 2015.
DeGeneres performs with singer Taylor Swift during Swift's concert tour in 2015.
DeGeneres hosts Democratic presidential candidate Hillary Clinton in October 2016.
President Obama presents DeGeneres with the Presidential Medal of Freedom, the nation's highest civilian honor, in November 2016. "It's easy to forget now, when we've come so far, where now marriage is equal under the law — just how much courage was required for Ellen to come out on the most public of stages almost 20 years ago," Obama said.
DeGeneres takes phone calls to help raise money for charity in 2017.
DeGeneres returned to stand-up comedy with her Netflix special "Relatable" in 2018.
DeGeneres appears on Jimmy Kimmel's late-night talk show in 2018.