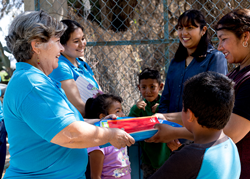 "Learning to write and read is like being able to see, because words start to make sense," said Francisca Guerrero Rodriguez. At 70 years, Rodriguez is the oldest student enrolled in the Write Her Future initiative.

SYRACUSE, N.Y. (PRWEB)
April 16, 2021
Lancôme Mexico is expanding its partnership with international adult literacy nonprofit, ProLiteracy. The expanded partnership will add a women's literacy program in two additional rural communities in the state of Guanajuato, Mexico, as part of the global Write Her Future initiative. Write Her Future is Lancôme's global commitment to combat illiteracy among the nearly 516 million women with low literacy and give a voice to this universal cause.
The Write Her Future initiative empowers women through literacy instruction, allowing them to develop competencies, participate in the development of their communities, enhance their confidence and improve their general wellbeing.
In 2020, ProLiteracy implemented the Write Her Future initiative with long-time partner Proyectos Laubach de Alfabetización en México (PLAMAC). PLAMAC focused their initial efforts in San Juan, San Miguelito, and El Sauz, in the municipality of San Miguel de Allende.
A second year of continued support from Lancôme Mexico will expand program implementation into two new communities reaching 30-50 new learners. As a response to the implications of the pandemic on the learning process the program will also incorporate women learners with low literacy skills from suburban communities near Irapuato, the second most populated city in the state of Guanajuato.
Write Her Future equips women with basic reading, writing and numeracy skills; women in the program range between the ages of 18 to 75 years old. The program meets women where they are in their literacy level, delivering personalized tutoring and instruction for those women who want to achieve primary, secondary and high school education. In partnership with the local educational authorities, PLAMAC guides the participants through the process to obtain recognized education certificates.
In response to the pandemic, PLAMAC developed a comprehensive education response plan. Instructors shifted their approach and began offering literacy instruction virtually. Students were provided with a hybrid model where they could work independently and then meet in small groups with their tutors outside on a weekly basis.
Despite the significant challenges presented by the pandemic, the program has impacted 45 learners to date, and was able to maintain student's motivation.
"Learning to write and read is like being able to see, because words start to make sense," said Francisca Guerrero Rodriguez. At 70 years, Rodriguez is the oldest student enrolled in the Write Her Future initiative.
In addition to literacy skills, the program also offers community workshops on gender equality to prevent violence against women. In rural areas, opportunities for women are limited and traditional customs that perceive women as inferior to their husbands persist. During the workshops women discuss their personal challenges within this social context and receive information and tools targeted to challenge these customs and raise awareness about women's rights.
"There are 750 million adults globally who cannot read and write, two-thirds of this population are women," says Kevin Morgan, president and CEO, ProLiteracy. "For over six decades, ProLiteracy has worked in partnership with educators and local NGO organizations around the world where the majority of learners served are women."
"Lancôme's wish is to empower women by working to end illiteracy and also to raise awareness of this too often silent issue," says, Victoria Garcia, Director of Lancôme Mexico. "We know that women who lack basic reading and writing skills have a hidden handicap that can seriously impact their own lives as well as those of their families. This partnership is natural for Lancôme, whose mission is to help women on their journey towards happiness and self-fulfillment."
About Lancôme Mexico

Since visionary pioneer Armand Petitjean founded the brand in 1935, Lancôme has epitomized timeless glamour with a quintessential French touch. Today the world's leading luxury beauty brand continues to inspire with its elusive je ne sais quoi that exudes happiness, confidence and French chic appeal, as well as the very best in quality, style, and transformative results. With a presence in 130 countries, over 20,000 beauty advisers in as many points of sale relay
Lancôme's message of French excellence, with incredible service and iconic products. Lancôme affirms that happiness is the most attractive quality and offers every woman the opportunity to enhance her beauty and femininity, whatever her age and whatever her skin color, by giving her the best of science and innovation. Lancôme's ambassadresses include Julia Roberts, Kate Winslet, Penelope Cruz, Lupita Nyong'o, Lily Collins, Taylor Hill, Isabella Rossellini, Zendaya, Amanda Seyfried, and muse, Chiara Ferragni. Lancôme's ambition is that every woman who comes to the brand to look more beautiful leaves feeling happier. For more information, please visit http://www.lancome.com.mx
About ProLiteracy

ProLiteracy is the largest adult literacy and basic education nonprofit membership organization in the nation. ProLiteracy is the leader in adult literacy content development, programs, and advocacy for more than 60 years. ProLiteracy works with its member organizations to help adults gain the reading, writing, math, English, and digital skills they need to be successful. ProLiteracy advocates on behalf of adult learners and the programs that serve them, provides training and professional development, and publishes materials used in adult literacy and basic education instruction. ProLiteracy has 1,000 member programs in all 50 states, and works with 21 nongovernmental organizations in 35 developing countries. For more information, visit ProLiteracy.org. You can follow us on Facebook, Twitter, Instagram, and LinkedIn.
About PLAMAC

For the past 30 years, PLAMAC (Proyectos Laubach de Alfabetización en Mexico), has implemented grassroots literacy and community development projects in rural communities throughout the state of Guanajuato in central Mexico. This woman-focused educational organization works in economically and socially marginalized communities that receive few public services, particularly in the realm of education. Women and children comprise the vast majority of community residents as most men migrate to larger cities in search of jobs. Left alone, these women suffer the double burden of gender discrimination and poverty – on top of the responsibility of caring for their families. Localized education combined with solidarity built through the literacy classes offer a sustainable alternative to their difficult circumstances and an opportunity to become self-sufficient.