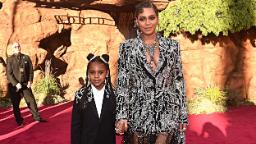 (CNN)When your mom is Beyoncé and your dad is Jay-Z, it's expected that you have to stunt on people at least a little.
Blue Ivy Carter has done just that, posing with her first Grammy.
On Thursday, Queen Bey shared on her verified Instagram account
a video compilation of her many wins
and ended it with two pictures of her daughter posing with her Grammy and wearing a crown.
In one shot, the young Carter is sipping a drink out of her Grammy using a straw.
It's not the first time the youngster has reminded us that we are all underachievers, by comparison.
All hail Princess Blue Ivy!